Radyne DMD20 IF & L-band Satellite Modem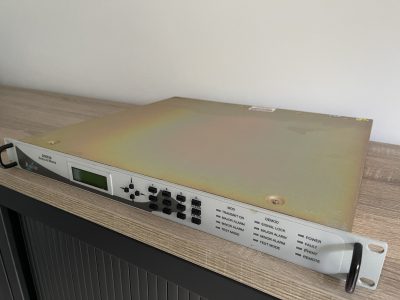 Radyne DMD20 Satellite Modem  
The Radyne DMD20 Satellite Modem breaks new ground in flexibility, operation and cost. With standards including IDR, IBS and DVB, and covering data rates up to 20Mbps, this 1RU duplex modem covers virtually all your Satellite IP, Telecom, Video and Internet applications. Switch between spur-free 70/140 MHz operation and L-Band without any configuration changes. It's all in the same box!
The extensive list of software options allows for budgeting the modem for today's needs while covering tomorrow's plans. These options can be purchased and then activated in seconds via the front panel.
Additional hardware options like Turbo, Interface Expansion, High Stability and DC operation complete the modem's dynamic feature coverage.
Stock this modem at its minimum configuration (and cost) locally at your warehouse for immediate distribution. Then configure on-site, allowing huge savings in time and dollars with just-in- time feature installation.
The DMD20's impressive remote accessibility surpasses all others in the field. Remote control via Radyne's trusted RLLP (Radyne Link Level Protocol) or 10 Base-T SNMP Ethernet include control of all the modem's features plus software maintenance. Additionally, the two-line back lit LCD can be supplemented with terminal software running on a PC or laptop. The modem now presents its entire monitor and control functions on the big screen.
Supported by Radyne's extensive line of redundancy switches, converters, encoders and decoders, the DMD20 can be built into any satellite requirement. Compatibility with Radyne's DMD2401 and DMD15 modems, are maintained for seamless substitution and addition to your existing systems.
Key Highlights

BPSK/QPSK/OQPSK/8PSK/16 QAM Operation.
4 Kbps to 20 Mbps, 1 bps Steps.
FEC – Viterbi, Reed-Solomon, Sequential, Trellis, Turbo Product Code.
Configuration, Monitor and Control Features Fully User-Programmable.
Excellent Spurious Performance.
Fully Compliant with IESS 308/309/310/314/315.
Optional DVB to EN301-210 and EN300-421.
Industry-standard Universal Interface Module.
Fast Acquisition.
50 to 90MHz and 100 to 180MHz IF, and 950 to 2,050MHz L-Band in 1Hz Steps.
Standard Features Include: Reed-Solomon, Asynchronous Overhead, Automatic Uplink, Power Control (AUPC), and CM701 compatible Satellite Control Channel.
We have two DMD20 Satellite modems available from the shelf and can be released quickly after power-on test. We provide a 90-day warranty and we can ship worldwide EXW The Netherlands.
Radyne DMD20 IF & L-band Satellite Modem  
Radyne DMD20 IF & L-band Satellite Modem