Research Concepts RC2500 Antenna Controller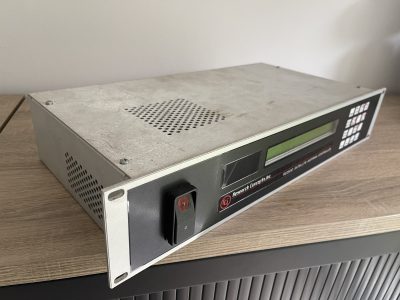 Research Concepts RC2500 Antenna Controller (USED)
The Research Concepts RC2500 Antenna Controller is designed to provide an upgrade path for users of older, unsupported antenna controllers. The large investment in an antenna system is preserved by retrofitting an existing installation with the RC2500. In addition to the ease of use afforded by the industry standard menu scheme of the RC2000-series, the capability of the antenna system can be enhanced to include features such as inclined orbit tracking and PC remote control.
A reliable all solid-state control section interfaces to many standard antenna-pad-mounted drive housings. Optically coupled drive outputs and limit inputs provide isolation between the outdoor unit and the rack-mounted RC2500. The RC2500 can support a single summary limit input or individual limits for each axis.
Antenna Position sensing is performed by high precision resolver system. Overall, the RC2500 is well equipped to handle the demanding requirements for both domestic and international inclined-orbit satellite tracking.

Features
Automatic Positioning
precisely positions antenna with the press of a single key
User Friendly Interface
operator interaction is the same as the Industry Standard RC2000
Easy to Read Super-twisted nematic LCD simultaneously displays Az, El and Pol Angles, Received Signal Strength, as well as current Satellite Name and Longitude
Non-volatile Memory
stores 38 preset position and polarization combinations
Continuous Antenna Status Monitoring
motion limits, drive error, maintenance, emergency stop and runaway conditions
Dual Speed
fast slewing, fine positioning
Inclined-Orbit Tracking
Step Track, Memory & Search modes supported
Solid-State Control Circuitry
5KV-rated opto-isolation, operates with many out- door boxes
Intelli-Search
eliminates problems associated with traditional searches – search mode may be overridden for transmit applications
Multi-Band Operation
supports Ku, C and L-band satellites
Optional RS-422 PC Control Interface
automated control with many popular packages
High-Resolution Resolver Interface
ensures accurate Ku-band positioning
Software Controlled Offsets
allows for easy resolver setup
Designed for Future Expansion
designed-in ports for potentiometer-based feed control, RF power measurement circuits, TTL- compatible Digital input, form-C relay output
We have one unit of the shelf and can be shipped quickly EXW The Netherlands. We provide a 90-day warranty.
Research Concepts RC2500 Antenna Controller
Research Concepts RC2500 Antenna Controller