Rohde & Schwarz Spectrum Analyzer FSH3 (9kHz-3GHz)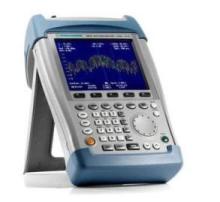 Perhaps you're interested in this alternative product:
Rohde & Schwarz Spectrum Analyzer FSH3 (9kHz-3GHz)
The ̧FSH is the ideal spectrum analyzer for rapid, high-precision, cost-effective signal investigations. It provides a large number of measurement functions and so can handle anything from the installation or maintenance of a mobile radio base station up to on-site fault location in RF cables as well as development and service, an extensive range of applications.
The ̧FSH3 is designed as a robust, portable spectrum analyzer that can be used in the field

Features
Robust edge protection, stable carrying handle
Easy operation
Four hours operating time on battery power Storage of up to 256 traces and setups Easy data transfer to PC
High measurement accuracy
Best RF characteristics in its class
Handy, robust and portable easy-to-use Spectrum Analyzer including. Tested before release and we provide 90-day warranty.
Please refer to datasheet for specifications.
Rohde & Schwarz Spectrum Analyzer FSH3 (9kHz-3GHz)
Rohde & Schwarz Spectrum Analyzer FSH3 (9kHz-3GHz)