SAT-NMS Antenna Control Unit/Outdoor Module for antenna tracking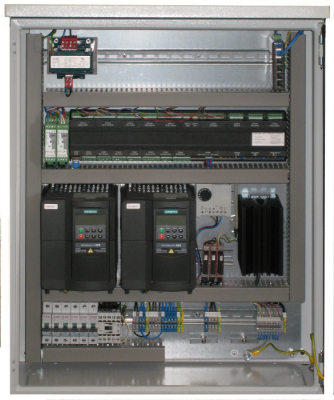 SAT-NMS Antenna Control Unit/Outdoor Module for antenna tracking
The sat-nms ACU-ODM Module (Outdoor Module) is the core module of a complete antenna step-track system, which tracks precisely any antenna size on the satellite. The software implements the standard step- tracking mode as well as an improved Adaptive Tracking Algorithm.
The sat-nms ACU-ODM records the tracked positions for several days based on these data and calculates a mathematical model to predict the antenna position. This reduces possible step-track failures and provides continuous operation in case of a beacon receive failure.
In the third operation mode called "Program Tracking" the antenna follows a path defined by a file that contains time stamped azimuth, elevation and polarization values, which usually has been calculated by external software.
The SAT-NMS Antenna Control Unit can also be used as a pure and very cost-effective antenna-positioning controller for smaller antennas as in this case. The tracking software option needn't be installed. The DIN Rail Module provides all necessary interfaces to any antenna.
The sat-nms ACU-ODM Module can be very flexibly adapted to any type of antenna as the motor controllers can be selected independently.
Three motor controllers, like DC servos for smaller antennas or frequency inverters, which are commonly used in larger antennas.
Limit switches, alarm circuits.
Angular detectors measuring the azimuth, elevation and polarization angle, three different daughter boards are available that cover most of the angle detectors used in satellite ground stations:
– Analog resolver, covering the existing antennas
– Digital angle detectors with SSI-interface
– A/D-interface to measure the voltage across a precision potentiometer.
The DIN Rail Module can be directly integrated into a cabinet at the antenna. Together with the sat-nms LBRX Beacon Receiver, also available as DIN Rail Module, it is possible to have a complete step-track system integrated into the antennacabinet.
The sat-nms ACU-ODM Module includes an integrated webserver and provides its operator interface via web browser.
Skybrokers can integrate the sat-nms antenna control system on your new or used Earth Station Antenna. We have installed many systems! Please contact us for more information.
SAT-NMS Antenna Control Unit/Outdoor Module for antenna tracking
SAT-NMS Antenna Control Unit/Outdoor Module for antenna tracking