Vertex 11.1m C-band Earth Station Antenna with motorized King-Post Pedestal Mount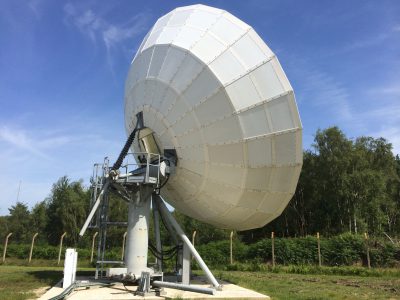 | | |
| --- | --- |
| Condition: | Used and refurbished |
| Model: | 11KPC |
| Manufacturer: | VertexRSI |
We're sorry but this product is sold
Perhaps you're interested in this alternative product:
Vertex 11.1m Satellite Antenna C-band Rx/Tx 4-port LP & CP switchable feed 2-Axis Motorizable mount and AZ/EL jackscrews (USED)

The VertexRSI (GDSatcom) Earth Station Antenna 11.1m is configured in C-band, Rx/Tx, 4-port and includes a Linear & Circular switchable Feed, a 2-Axis Motorizable Kingpost Pedestal Mount with AZ/EL jackscrews, a Hub enclosure (Antenna Hub or Drum) (224cm (88inch), 122cm (48inch) depth and 36-piece Aluminum panels with heat-diffusing white paint. Vertex has developed the 11.1m C-band and Ku-band antennas to offer superior performance for broadcast uplinks, private networks, video network applications and international INTELSAT Standard 'B" Earth Stations.
The Model 11.1KPC (C-band) and 11.1KPK (Ku-band) antenna incorporate stretch formed doubly contoured panels with matched radials and hub assemblies for ease of field alignment. The reflectors and AZ/El Kingpost pedestals provide the stifness and pointing accuracy required for C-band and Ku-band operation. These antennas are designed for full orbital arc coverage.
The Vertex Antenna 11.1m C-band will be completely reconditioned and refinished to look and perform like new. Hardware kits are checked out and completed and we provide documentation package and foundation drawings. We included a motorization package model 7150MCU and a tracking package model 7200ACU including Beacon Tracking Receiver (BTR), cabling, Size-11 resolvers and limits. This Vertex 11.1m Satellite Antenna C-band has original VertexRSI de-icing enclosure which we can include.
This is a very nice antenna is in perfect condition and was relocated by our professional installation team in London area, UK. Please check our Projects section to see awesome footages made during the relocation. We recommend (de)installation by our professional installation team for warranty and performance issues.
System can be packed and stowed in 2x 40ft High-Cube Sea-Containers or dedicated trucks for road transportation.
Note: This antenna has been sold in 2019 and is not available anymore. We are happy to provide information about alternatives.
Vertex 11.1m C-band Earth Station Antenna with motorized King-Post Pedestal Mount
Vertex 11.1m C-band Earth Station Antenna with motorized King-Post Pedestal Mount