Vertex 9.0m Ku-band Earth Station Antenna with motorized Pedestal Mount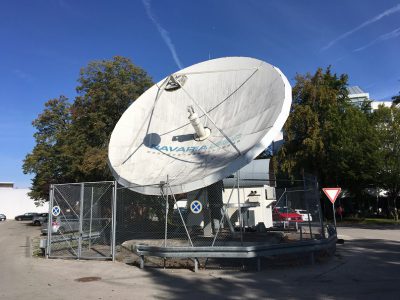 | | |
| --- | --- |
| Condition: | Used and refurbished |
| Model: | 9.0KPK |
| Manufacturer: | VertexRSI |
We're sorry but this product is sold
Perhaps you're interested in this alternative product:
Vertex 9.0m Satellite Antenna 4-port Ku-band with 3-axis motorized Pedestal Mount
The Vertex (VertexRSI) 9.0m KPK Cassegrain Earth Station Antenna is configured in Ku-band, Rx/Tx, 4-port Linear Feed and includes a 3-Axis Motorized Kingpost Pedestal Mount with AZ/EL jackscrews, a Hub enclosure 178cm (70inch), 91cm (36inch) depth and 16-piece precision-formed aluminum panels with heat-diffusing white paint. Vertex has developed the 9.0m C-band and Ku-band antennas to offer superior performance for Rx-only and Rx/Tx worldwide applications.
Model 9.0 KPC (C-band) and Model 9.0 KPK (Ku-band) antennas incorporate stretch formed doubly contoured panels with matched radials and hub assemblies for ease of field assembly. The reflectors and Azimuth/Elevation kingpost pedestals provide the stiffness and pointing accuracy required for C-band and Ku-band operation. These antennas are designed for full orbital arc coverage and are readily adaptable to ground or rooftop installations.
The antennas meet FCC Pegulation 25.209, Eutelsat requirements for antenna pattern and polarization discrimination, and INTELSAT requirements as specified in associated lESS documents.
Options
Two port, three port, and four port Tx/Rx linear and circular polarized feeds
Reflector and feed deicing, full reflector systems with manual or automatic controls
Motorization Drive Systems and Tracking packages (USED as well as NEW)
Turnkey installations or installation assistance
The Vertex 9.0m Satellite Antenna System will be completely reconditioned and refinished to look and perform like new. We complete the antenna with new motors and gearboxes, new limits, reflector hardware kits are checked out and a documentation package and foundation plans are provided. System is guaranteed to meet OEM specs when properly installed by our professional installation team.
This VertexRSI 9.0m antenna is originally configured as Ku-band but can be easily converted to DBS-band. Skybrokers has DBS-band OMT/Diplexers available!
This antenna was dismantled in January 2020. The original Walton Hot Air de-icing system as shown in the pictures is not available. We can offer alternatives, please ask us for details.
Note: This antenna has been sold. Please ask us for alternatives.
Vertex 9.0m Ku-band Earth Station Antenna with motorized Pedestal Mount
Vertex 9.0m Ku-band Earth Station Antenna with motorized Pedestal Mount