Vertex 16.4m C-band Earth Station Antenna with Motorized THC Turning Head Mount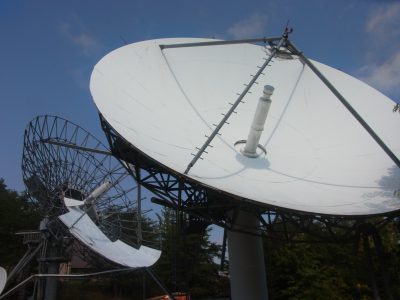 | | |
| --- | --- |
| Condition: | Used and refurbished |
| Model: | 16.4THC |
| Manufacturer: | VertexRSI |
We're sorry but this product is sold
Perhaps you're interested in this alternative product:
Vertex Antenna 16.4m C-band Rx/Tx 4-port LP & CP switchable feed 2-Axis Motorized THC Turning Head mount and AZ/EL jackscrews (USED)
The Vertex 16.4m Earth Station Antenna, THC Cassegrain C-band, Rx/Tx, comes with a motorized Turning Head Mount with AZ/EL jackscrews, a Hub enclosure and 84-piece precision-formed aluminum panels with heat-diffusing white paint. The Vertex Model 16.4THC antenna is the most recent state-of-the-art antenna design in the industry. This design configuration provides a high-quality product at an economical price. This system (16.4THC) is designed primarily for INTELSAT applications (lESS-207) and provides a variety of features which meets the needs of various operational requirements.
Tasked with the goal to provide an installed, cost-effective antenna subsystem, the design was approached in part, to minimize field installation time by increasing the level of factorycontrolled subassembly. This was achieved by precision fabrication tooling and higher level of factory subassemblies. An additional feature that benefits both the civils effort and provides superior operational flexibility is its azimuth coverage of up to 360degr. azimuth coverage in six 85degr overlapping segments. The enhanced stiffness of the reflector/pedestal system results in excellent performance for the most critical pointing/tracking requirements.
Vertex served the satellite communications industry since 1973 and has installed high-quality, superior performance antennas in over 70 different countries.
The Antenna System will be completely reconditioned and refinished to look and perform like new. We complete the antenna with new motors and gearboxes, new limits, reflector hardware kits are checked out and a documentation package and foundation plans are provided. System is guaranteed to meet OEM specs when properly installed by our professional installation team.
This antenna was dismantled in 2014 as part of a Teleport decommissioning in Washington, USA. The antenna was de-installed by a professional installation team and required full refurb.
Note: This antenna is not available anymore. It was installed in Europe in 2016. Please check photo section to see awesome footages made during the loading of the antenna in five ocean going containers.
Vertex 16.4m C-band Earth Station Antenna with Motorized THC Turning Head Mount
Vertex 16.4m C-band Earth Station Antenna with Motorized THC Turning Head Mount