VertexRSI 3.8m Ku-band Earth Station Antenna with motorized Pedestal Mount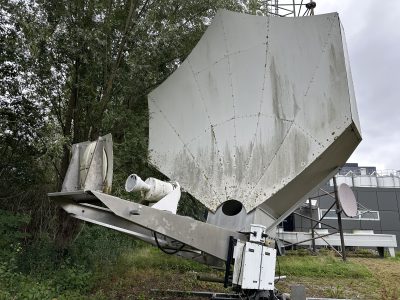 | | |
| --- | --- |
| Condition: | Used and refurbished |
| Model: | 3.8DPK |
| Manufacturer: | VertexRSI |
VertexRSI 3.8m Ku-band Earth Station Antenna with motorized Pedestal Mount
The VertexRSI 3.8m Ku-band Earth Station Antenna, Dual Off-set, is configured in Ku-band, Rx/Tx, 2-port LP feed, includes a Dual reflector and a non-motorized Galvanized Manual Mount. The antenna is Eutelsat and Intelsat approved and has Bat-wing shape 6-piece Precision formed aluminum panels with heat-diffusing white paint. Cleaned and aluminum back-frame structure and boom arm can support up-to 136kgs of integration equipment.
The VertexRSI 3.8m Antenna Dual-Offset Ku-Band and C-Band with motorized Pedestal Mount is designed and built with a long tradition of high-quality antennas. This antenna is destined to become the technical standard for responsible, reliable and high quality VSAT systems worldwide. The state-of-the-art design provides exceptional performance for low cross-polarization levels and excellent sidelobe patterns. The rugged feed boom can support up to 300lbs (136 kg) of integration equipment. Multiple models have INTELSAT and AsiaSat approval.
This antenna is currently configured as Ku-band, The system has jackscrews installed and we can add new motors to motorize it. Optional ACU and tracking can be offered. Please ask us for possibilities.

Key Features
Aluminum Reflector Construction
Light Weight
Precise Surface
Long-Life Spec. (15 years)
High Non-Axis Gain with Low off-axis EIRP
125mph (200km/h) survival in any position
INTELSAT & ASIASAT Type Approved
Vertex discontinued the DPK model. The PMK-series is replacing the DPK.
System is in perfect condition and will be refinished and checked out to look and perform like new. We complete the antenna with reflector hardware kits, documentation package and foundation plans. System is guaranteed to meet OEM specs when properly installed by one of our professional installation teams.
Note: This antenna will be dismantled in Q2 2024 and will be cleaned and touched up prior to sale.
VertexRSI 3.8m Ku-band Earth Station Antenna with motorized Pedestal Mount
VertexRSI 3.8m Ku-band Earth Station Antenna with motorized Pedestal Mount