Xicom Technology Indoor TWTA, 750W Ku-band model XTRD-750K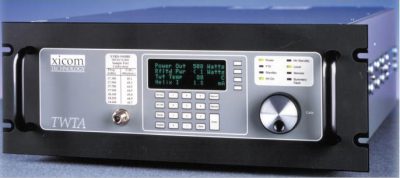 Perhaps you're interested in this alternative product:
Xicom Indoor TWTA 750W Ku-band model XTRD-750K
The Xicom Indoor TWTA 750W Ku-band model XTRD-750K is a highly efficient rack mountable traveling wave tube amplifier (TWTA) designed for test and measurement applications. The unit includes RF gain control, a solid-state pre-amplifier, cooling and monitoring and control (M&C) system.
Rack space is conserved because the amplifier occupies only 4 rack units (7 inches) of a standard 19-inch rack cabinet. Nominal weight is 75 pounds (34kgs). The unit features a menu driven front panel display and RS-232/422/485 serial port interfaces for complete computer control.
RF, traveling wave tube and default parameters are easily monitored on the 4-line front panel display.
Gain control is provided via the front panel or through the serial interface.
The XTRD-750K incorporates high efficiency, multi-stage collector TWT's. Reliability is enhanced because both prime power consumption and internal operating temperatures are reduced for both the linear and saturated modes of operation.
Power factor correction circuitry is also included which minimizes line current distortion and reduces the required Volt-Amps input. The automatic features of the high frequency resonant conversion power supply include quick recovery from prime power outages and multiple helix fault resets (three fault cycles.)
Depending upon user requirements, the amplifier can be configured for either single thread or redundant system operation.

TWTA's integrated with refurbished Earth Station Antenna
As integrator, Skybrokers can integrate, install and test the Xicom TWTA's with our used and refurbished Earth Station antennas, like VertexRSI, Andrew/ASC Signal and Viasat. Please feel free to inquire.
Our used Amplifiers are always tested by professional technicians in a professional lab with extensive test equipment. We provide a detailed test-report and a 90-day warranty is added. Skybrokers recently provided a used XTRD-750K to a satellite service provider in Peru.
Xicom Technology Indoor TWTA, 750W Ku-band model XTRD-750K
Xicom Technology Indoor TWTA, 750W Ku-band model XTRD-750K