Xicom Technology Outdoor TWTA 750W C-band model XTD-750C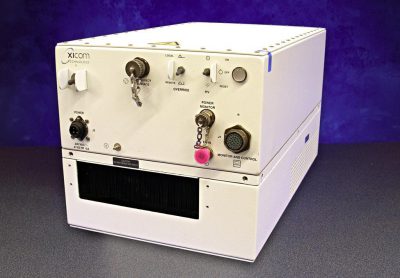 Xicom Outdoor TWTA XTD-750C 750W C-band Antenna-mounted Traveling Wave Tube Amplifiers (TWTA's)
The Xicom Outdoor TWTA XTD-750C 750W C-band antenna-mounted Traveling Wave Tube Amplifier is known worldwide for its reliable operation and long life. By eliminating the need for long waveguide runs, transmit power is optimized and RF Losses are reduced. Acclaimed for their compact and highly efficient design, Xicom's antenna-mount amplifiers dramatically reduce both installation and operation costs.
The XTD-750C is a compact self contained antenna mountable high power amplifier (HPA) designed for low cost installation and long life. The outdoor design eliminates the need for an amplifier shelter as well as a long waveguide run between the amplifier and the antenna feed horn. RF-filters, cooling, and monitoring & control (M&C) systems are all self contained within the HPA. These features provide high reliability, low maintenance costs, and low replacement costs.
The XTD-750C uses high efficiency dual-stage collector Traveling Wave Tubes (TWT). Some benefits of this type of TWT are:
Reduced prime power consumption
Lower internal operating temperatures
Reliability enhancement
A complete serial M&C-system is built into the unit. A remote external controller is available to operate the HPA from a user selected location.

Features
Compact, Self-Contained Design
Short Waveguide Run for Low Loss Operation
Weatherized for -40°C to +50°C/+60°C Operation, No Shelter Required
Low Cost Installation and Maintenance
Low Operating Cost
Internal Cooling, RF Filters and M&C Systems
Power Factor Correction
CE Certified
Detected RF and Gain Control
Serial Control

Options 
Power Levels from 50W to 1,250W
Remote External Controllers
C-, X-, Ku-, Ka-, DBS and Multi-Band Coverage
1:1, 1:2 and 1:N Redundancy
Extended Frequency Coverage
Integrated Linearizers (Standard on Ka-band)
All TWTA's are available with integrated BUC's
Liquid Cooling on 500W, 750W and 1,250W models
 TWTA's integrated with refurbished Earth Station Antenna
Xicom Technology offers the world's largest selection of Traveling Wave Tube Amplifiers (TWTA's) to cover your SATCOM and data link requirements. Xicom Technology offers a broad array of compact and robust designs. As integrator, Skybrokers can integrate, install and test the Xicom TWTA's with our used and refurbished Earth Station antennas. Please feel free to inquire.
Xicom Technology Outdoor TWTA 750W C-band model XTD-750C
Xicom Technology Outdoor TWTA 750W C-band model XTD-750C