Xicom Technology Indoor Rackmount TWTA 750W Ku-band model XTRT-750K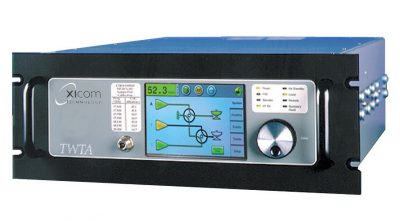 Rack-Mounted TWTAs with Touch Screens
Xicom Technology offers the world's largest selection of rack-mount TWTAs. Xicom's rack-mounted TWTA's are known worldwide for their superior technology and reliability. Xicom Technology TWTA's will meet your most demanding requirements for size, weight, efficiency and reliability. They are the ideal choice for fixed-site, SNG and flyaway applications.
Xicom's new LCD touch screen control front panel provides an easy-to-use interface for monitoring and controlling the amplifier. The new touch screen front panel displays the HPA's operational status, including power output and temperature, graphical displays of parameter trend analysis, and event logs. Local and remote diagnostics can also be easily performed via an Ethernet interface.
This new display eliminates the need for separate external controllers for common architectures. Another valuable feature is that all operational data is saved within the amplifier's non-volatile memory, providing a complete history of the HPA in the event that the unit needs service or repair.

Features 
LCD Touch Screen Control Front Panel
Harmonic and Receive Band Filtering
Power Factor Correction
RF Gain Control
RS-232/422/485 Serial Interfaces
Ethernet Interface
CE Certified
Compact and Lightweight
24/7 Technical Support
Service Centers Worldwide
Options
Uplink Power Control
1:N Redundant or Phase Combined Systems
Extended Frequency Coverage
Integrated Linearizers
Block Up-Converters (BUC's)
TWTA's integrated with refurbished Earth Station Antenna
Xicom Technology offers the world's largest selection of Traveling Wave Tube Amplifiers (TWTA's) to cover your SATCOM and data link requirements. Xicom Technology offers a broad array of compact and robust designs. As integrator, Skybrokers can source, integrate, install and test the Xicom TWTA's with our used and refurbished Earth Station antennas. Please feel free to inquire.
Xicom Technology Indoor Rackmount TWTA 750W Ku-band model XTRT-750K