Satrec Initiative
Satrec Initiative is a public space company that will manufacture and operate high-resolution imaging satellites, such as SpaceEye-T, SpaceEye-X, and SpaceEye-1, to serve civilian and military customers. Satrec is based in South Korea and is part of defense company Hanwha Aerospace.
The company plans to orbit the first SpaceEye-T satellites into low Earth orbit by the first quarter of 2024, in the first step toward building its own constellation of Earth observation satellites.
Satrec has two R&D sites located in Daejeon, the city of Science & Technology, 140km south of Seoul, Korea.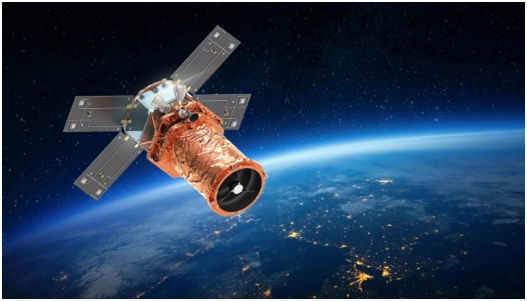 Company History
Satrec Initiative was founded in Daejon, South Korea in 1999 by the engineers who developed the first Korean satellite (KITSAT-1, launched on an Ariane 42P rocket in August 1992) and the KOMPSAT-series of radar satellites, at KAIST Satellite Technology Research Center (SaTRec). Satrec was responsible for the commercial marketing of the KOMPSAT (Korean Multi-Purpose Satellite) satellite constellation (KOMPSAT-1 to -6).
The company is engaged with the design and built of Earth observation satellites and ground systems, partnered with the United Arab Emirates' Mohammed Bin Rashid Space Center that built the DubaiSat satellites (DubaiSat-1 and DubaiSat-2) for Earth Observation. Satrec first satellite was a Malaysian Earth Observation satellite, RazakSAT that was launched in 2009.
Parent company Satrec has two subsidiaries and four businesses:
Satrec (SI), providing Earth observation satellite and ground systems,
SI Imaging Service (SIIS) founded in 2014, providing very high resolution optical and SAR images obtained from KOMPSAT-series and DubaiSat-2 satellites,
SI Detection (SID), developing and providing state-of-art radiation detectors derived from spacecraft radiation detecting systems and
SI Analytics (SIA), building up expertise in artificial intelligence, deep learning, and Earth observation image analysis specifically for defense and intelligence applications.

In 2003 Satrec cooporated with built of the first UAE satellite, DubaiSat-1 LEO observation satellite, generating high-resolution optical images at 2.5m in panchromatic (black-and-white) and at 5m in multispectral (colour) bands.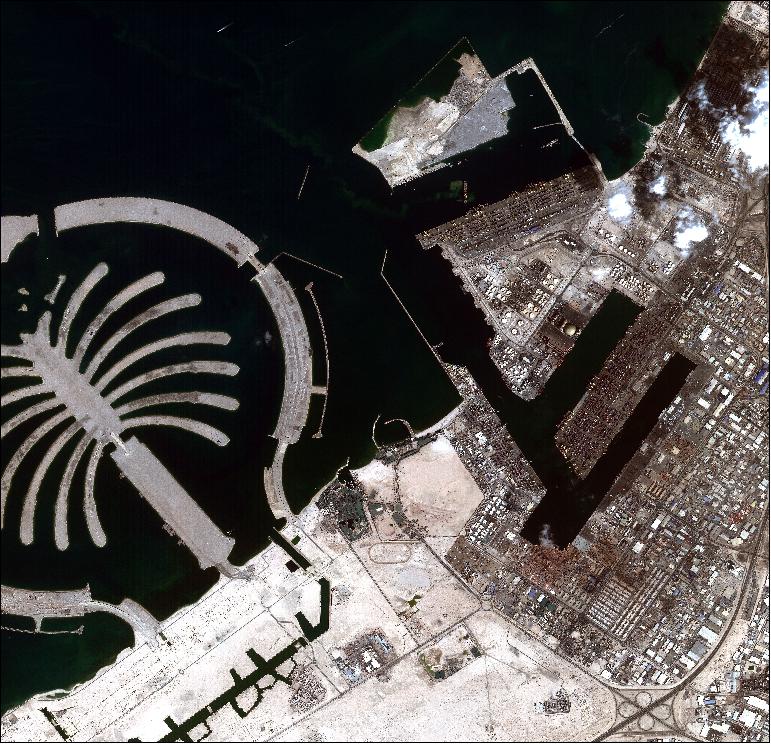 DubaiSat-1 images were used by the United Nations to monitor relief efforts following the 2011 Tōhoku earthquake and tsunami in Japan.
In April 2013 Satrec and the Emirates Institution for Advanced Science & Technology (EIAST) constructed the DubaiSat-3 (renamed KhalifaSat) satellite. The spacecraft was developed by Satrec in South Korea and later transferred to EIAST's satellite manufacturing facilities in the UAE midway through the project. Launch operator MHI Launch from Japan, orbited the satellite on a H-IIA launcher on October 29th, 2018 as a secondary payload. The main passenger was Japan's GOSAT-2 satellite studying greenhouse gas levels.
In August 2013 KOMPSAT-5 radar Earth Observation satellite, built by Airbus Defense & Space, was launched on the Dnepr-1 rocket operated by ISC Kosmotras from Russia.
In February 2014 Satrec, LIG Nex1 Co, Ltd. from Korea and Airbus Defense & Space jointly built the KOMPSAT-6 high-resolution imaging radar satellite for South Korea. The launch contract was awarded to launch operator ILS for launch on an Angara 1.2 rocket scheduled in 2019. The launch was postponed to 2022 due to delays in the development and supply of parts and the COVID-19 pandemic.
In March 2014 the EIAST signed a contract with Satrec Initiative for the global promotion and distribution of Dubai Sat-2's products and services to customers worldwide.
In January 2021 defense company Hanwha Aerospace from South Korea's acquired 30% of the shares of Satrec by investing 100 million USD.

| | | | | |
| --- | --- | --- | --- | --- |
| Satellite | Customer | Launch Date | Launcher | Launch Operator |
| KITSAT-1 | KAIST | Aug 11th, 1992 | Ariane 42P | Arianespace FG |
| RazakSAT | ATSB | July 14th, 2009 | Falcon 1 | SpaceX |
| KOMPSAT-1 (Arirang-1) | KAIST | Dec 19th, 1999 | Taurus 2110 | OrbitalATK USA |
| KOMPSAT-2 (Arirang-2) | KAIST | July 28th, 2006 | Rockot KM | Eurockot GER |
| KOMPSAT-3 (Arirang-3) | KAIST | May 18th, 2012 | H-IIA | MHI Launch Japan |
| KOMPSAT-3a (Arirang-3A) | KAIST | Mar 26th, 2015 | Dnepr-1 | ISC Kosmotras RUS |
| KOMPSAT-5 (Arirang-5) | KAIST | Aug 22nd, 2013 | Dnepr-1 | ISC Kosmotras RUS |
| KOMPSAT-6 (Arirang-6) | KAIST | 2022 | Angara 1.2 | ILS Launch KZ |
| KOMPSAT-7 (Arirang-7) | KAIST | 2022 | Vega | Arianespace FG |
| DubaiSat-1 | EIAST | July 29th, 2009 | Dnepr-1 | ISC Kosmotras RUS |
| DubaiSat-2 | EIAST | Nov. 21st, 2013 | Dnepr-1 | ISC Kosmotras RUS |
| KhalifaSat (DubaiSat-3) | EIAST | Oct. 29th, 2018 | H-IIA | MHI Launch Japan |
| SpaceEye-T | Satrec | 2024 | | |

All trademarks, logos and images mentioned and showed on this page are property of their respective owners.

Resources
www.satreci.com
www.si-imaging.com
www.sidetection.com
www.si-analytics.ai
www.aerospace-technology.com April 24th, 2013
www.satnews.com edition December 19th, 2013
www.earth.esa.int
www.mbrsc.ae
www.spacenews.com February 26th, 2014
www.satelliteprome.com edition March 16th, 2014
www.researchgate.com
www.spacenews.com edition August 2nd, 2016
www.businesskorea.co.kr edition January 6th, 2021
www.globalsecurity.org
www.spacenews.com edition January 14th, 2021
www.wikipedia.org
www.world.kbs.co.kr edition February 19th, 2021
www.pitchbook.com
www.mbpi.com
www.space.skyrocket.de
www.spacenews.com edition August 18th, 2021
www.koreaherald.com Edition September 22nd, 2021