SES-20 at 135° West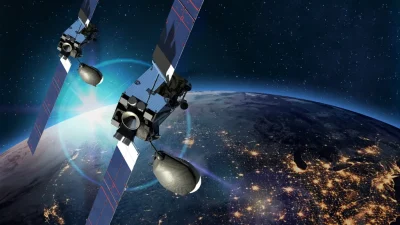 | | |
| --- | --- |
| Position: | 135° West |
| Operator: | SES |
| Launch operator: | ULA |
| Launch vehicle: | Atlas V |
| Launch date: | 10/04/2022 |
| Expected lifetime: | 15+ Years |
SES-20 at 135° West 
The SES-20 at 135° West is a GEO C-band only communications satellite operated by satellite operator SES from Luxembourg. SES selected two US-based satellite manufacturers, Northrop Grumman and the Boeing Company, to deliver four new satellites (SES-18, -19, -21 and -21) as part of the company's accelerated C-band clearing plan to meet the Federal Communications Commission's (FCC) objectives to roll-out 5G services. The company will migrate its existing C-band customers and ensuring the continued delivery of digital television to nearly 120 million American TV homes and other critical data services.
Satellite manufacturer Northrop Grumman will deliver the two GeoStar-3 satellites, SES-18 and SES-19, each equipped with a high-quality C-band payload. The two satellites will be designed, assembled and tested in Dulles, Virginia USA.
Both SES-20 and -21 satellites were built by satellite manufacturer Boeing and are designed and intended to enable SES's continued delivery of its C-band broadcast and radio services as well as critical data networks services in the coming months. The satellites are the 14th and 15th satellites built by Boeing for SES.
SES-20 and -21 were scheduled for a dual launch on September 30th, 2022 on an Atlas V rocket operated by launch provider ULA from the Cape Canaveral Launch Complex in Florida USA. The launch was delayed due to potential impacts from Hurricane Ian. Both satellites were integrated to the launch vehicle and safely secured within the Vehicle Integration Facility at SLC-41. Both satellites were successfully orbited on October 4th, 2022.