UnseenLabs BRO LEO satellite constellation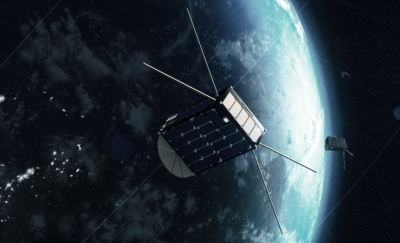 UnseenLabs BRO (Breizh Reconnaissance Orbiter) LEO satellite constellation is being created by French space start-up company Unseenlabs. The constellation is built for maritime surveillance.

The company is leading in radio Frequency sign al processing thru their satellites and is providing services to Maritime-, and Shipping companies, Security companies and Governments for environmental protection. Almost 90% of goods are transported by sea and oceans, new shipping routes are opened and piracy and illegal vessels are ever present. When a vessel is hi-jacked it can vanish from the surveillance screens if its embedded beacon (Automatic Identification System, AIS) is cut-off. With UnseenLabs' innovative electromagnetic technology a vessel can be tracked any time worldwide.

The BRO-1 LEO satellite was developed by the company, and is a spectrum monitoring and electromagnetic intelligence service (SIGINT) for maritime and aerial traffic surveillance. The satellite is a 6U CubeSat and was built by GOMSpace featuring the company's-built spectrum monitoring payload. This was the first step towards a future constellation using advanced spectrum monitoring dedicated to a disruptive maritime surveillance service.

The BRO-2 and BRO-3 satellites were launched on November 20th 2020 on an Electron KS launcher operated by Rocket Lab.

Their fourth satellite, BRO-4, was orbited on a Vega launcher, operated by launch provider Arianespace, on August 17th, 2021. The satellite was orbited into a sun-synchronous orbit (SSO) at an altitude of (approximately) 551 km.

BRO-5 satellite was orbited on the Spacex' Transporter-3 Rideshare Mission on Jan 13th, 2022 using a Falcon 9 rocket.
BRO-6 was launched on Rocket Lab's Electron launcher from Pad A at Launch Complex 1 on New Zealand's Mahia Peninsula. The 'There And Back Again' mission was Rocket Lab's 26th Electron launch deploying 34 satellites to a sun synchronous orbit for a variety of customers including Alba Orbital, Astrix Astronautics, Aurora Propulsion Technologies, E-Space, Spaceflight Inc, and Unseenlabs. The mission brought the total number of satellites launched by Electron to 146 and was also a recovery mission where, for the first time, Rocket Lab caught Electron's first stage as it returned from space under parachutes using a helicopter. The successful catch brings Electron one step closer to being the first reusable orbital small sat launcher.
| | | | | |
| --- | --- | --- | --- | --- |
| Satellite | Mission | Launch Date | Launcher | Launch Operator |
| BRO-1 | 'Look-Ma,-No-Hands' | Aug 19th, 2019 | Electron | Rocket Lab NZ |
| BRO-2 | 'Return-To-Sender' | Nov 20th, 2020 | Electron | Rocket Lab NZ |
| BRO-3 | 'Return-To-Sender' | Nov 20th, 2020 | Electron | Rocket Lab NZ |
| BRO-4 | VV19  | Aug 17th, 2021 | Vega | Arianespace FG |
| BRO-5 | Transporter-3 | Jan 13th, 2022 | Falcon 9 | SpaceX USA |
| BRO-6 | 'There-And-Back-Again' | May 2nd, 2022 | Electron | Rocket Lab NZ |
| BRO-7 | Transporter-4 | April 1st, 2022 | Falcon 9 | SpaceX USA |
| BRO-8 | Transporter-6 | Jan 3rd, 2023 | Falcon 9 | SpaceX USA |
UnseenLabs BRO LEO satellite constellation