Comtech EFData CDM-625A Advanced Satellite Modem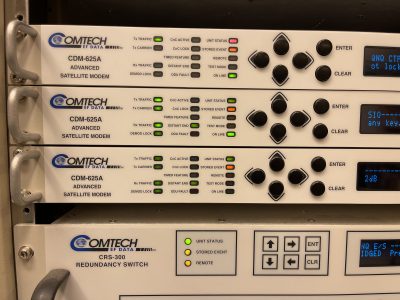 The Comtech EFData CDM-625A Advanced Satellite Modem builds on CEFD's legacy of providing the most efficient and reliable satellite modems. With support for VersaFEC® Forward Error Correction (FEC), the revolutionary DoubleTalkâ Carrier-in-Carrierâ bandwidth compression, additional rolloffs and advanced packet processing, the CDM-625A provides significant savings under all conditions. This combination of advanced technologies enables multi-dimensional optimization, allowing satellite communications users to:
Minimize operating expenses (OPEX)
Maximize throughput without using additional transponder resources
Maximize availability (margin) without using additional transponder resources
Minimize capital expenses (CAPEX) by allowing a smaller BUC/HPA and/or
Antenna
Or, a combination to meet specific business needs
Features
DoubleTalk Carrier-in-Carrier bandwidth compression
Carrier-in-Carrier Automatic Power Control
VersaFEC-2 High Performance LDPC with Adaptive Coding
and Modulation (ACM), Short Block and Long Block
VersaFEC FEC with Adaptive Coding and Modulation (ACM)
5%, 10%, 15%, 20%, 25% and 35% Filter Rolloff
Packet Processor with header compression, payload compression, advanced Quality of Service (QoS) and Managed Switch Mode with VLAN-support
Integrated 4-port managed Ethernet switch with VLAN and QoS
Jumbo frame support
Dual Band Capability: 70/140 MHz and extended L-Band (950 – 2250 MHz) in same unit
Data Rate: 18 kbps to 25 Mbps
Symbol Rate: 18 ksps to 12.5 Msps
Modulation: BPSK, QPSK/OQPSK, 8PSK/8-QAM/8-ARY, 16-QAM/16-ARY, 32-ARY
FEC: Viterbi, Sequential, Concatenated Reed Solomon, TCM, Turbo Product Code (TPC) (IESS-315 Compliant), LDPC Code, VersaFEC (low latency LDPC) and VersaFEC- 2 (high performance LDPC)
Widest Range of data interfaces: EIA-422/530, V.35, G.703 T1, G.703 E1, G.703 T2, G.703 E2, Quad G.703 E1, ASI, LVDS, HSSI, 4-port 10/100Base-T Ethernet
IEEE 1588v2 Precision Time Protocol
Sub Mux to multiplex IP/Ethernet traffic with serial or G.703 traffic
Drop & insert for T1/E1
Enhanced D&I++ for single T1/E1 & quad E1
Management: 10/100Base-T Ethernet with SNMP, Distant
End SNMP Proxy, HTTP, Telnet and EIA-232/EIA-485
RADIUS Client
Carrier ID using MetaCarrier® Technology
Embedded Distant-end Monitor and Control (EDMAC) Automatic Uplink Power Control (AUPC)
Engineering Service Channel (ESC/ESC++)
Standard high-stability internal reference (± 6 x 10-8) 5-tap Adaptive Equalizer
L-Band TX: 10 MHz reference for BUC, FSK communications and optional BUC powersupply
L-Band RX: 10 MHz reference and LNB powersupply
L-Band: Advanced FSK for LPOD M&C
1:1 and 1:10 redundancy switches available
Backwards compatible with CDM-625
Environmentally Resistant version (CDMER-625A) available

Typical Users  
Mobile Network Operators
Telecom Operators
Satellite Service Providers
Government & Military
Enterprise
Offshore
Common Applications
Mobile Backhaul
703 Trunking
IP Trunking
Offshore & Maritime Communications
Enterprise
Communications on-the-Move
Satellite News Gathering
Skybrokers supplied Comtech EFData CDM-625A Advanced Satellite Modems to various Satellite Operators and Teleports for integration with a used and refurbished Earth Station Antenna. Modems can be shipped with a short lead-time ex works USA.
Comtech EFData CDM-625A Advanced Satellite Modem
Comtech EFData CDM-625A Advanced Satellite Modem