CPI Antenna Control System model 970A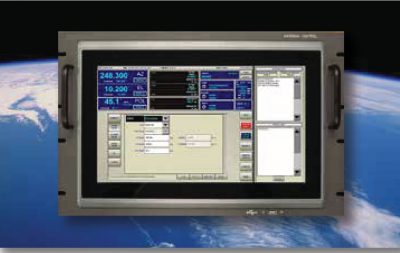 | | |
| --- | --- |
| Condition: | New OEM |
| Model: | 970A |
| Manufacturer: | CPI, Inc. |
CPI Antenna Control System model 970A
The CPI Antenna Control System model 970A can be used with almost any full motion antenna for precision satellite, spacecraft, or celestial tracking applications. The system comprises an Antenna Control Unit (ACU), Tracking Receiver Unit (TRU) and a Power Drive Unit (PDU) which are linked via dedicated Ethernet connections. This provides flexibility in locating the key system components, allows for variable separation distances and provides immunity to electrical ground plane transients.

Tracking Accuracy – Optrack
Optrack; Normally better than 5% of the receive beamwidth in winds of 30mph gusting to 45mph, satellite inclination of up to 15° and signal scintillation of up to 2dB.
Monopulse; For dynamic targets, normally better than 3% of the receive beamwidth for 30mph gust- ing winds. Minimum scintillation sensitivity.

Antenna Pointing Accuracy
Normally better than 0.010° RMS in winds of 30mph gusting to 45mph as measured at the axis position transducer. The ACU-bias correction Model will significantly supress systematic errors affecting RF beam spatial accuracy.

Features
Tracking, Pointing, and Acquisition modes
Single drive per axis, multiple axes
AZ/EL, X-Y, HA/Dec, and AZ/EL/Tilt pedestals
GEO, LEO, TT&C, RADAR, or Celestial applications
Single or Multi-Band operation

Benefits
Full featured inverter drive control

Applications
Can be used with almost any new or used antenna
Communications & Power Industries, Inc. (CPI) is a global manufacturer of electronic components and subsystems focused primarily on communications and defense markets. With a heritage of technological excellence that spans decades, CPI develops, manufactures and globally distributes innovative and reliable technology solutions used in the generation, amplification, transmission and reception of microwave signals for commercial and military applications. CPI serves customers in the communications, defense, medical, industrial and scientific markets.
Skybrokers offers for more then 10 years CPI and Varian new and used TWTA's and SSPA's in C- as well as Ku-band. We are providing used and refurbished Earth Station Antennas from former Andrew/ASC Signal brand that was part of CPI, but has been acquired by Kratos Defense & Space, Inc. in 2020.
CPI Antenna Control System model 970A
CPI Antenna Control System model 970A