CPI/Orbital 5.0AE3BP 5.0m Antenna Positioner for tracking LEO/MEO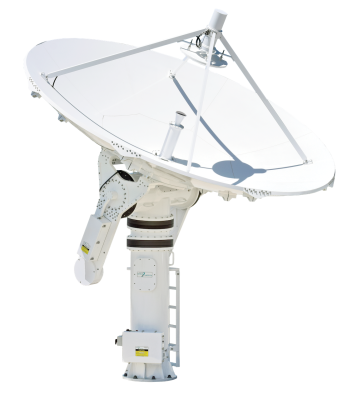 | | |
| --- | --- |
| Condition: | New OEM |
| Model: | 5.0AE3BP-5.0m |
| Manufacturer: | CPI, Inc. |
CPI/Orbital 5.0AE3BP 5.0m Antenna Positioner for tracking LEO/MEO
The CPI/Orbital 5.0AE3BP 5.0m Antenna Positioner for tracking LEO/MEO is designed and built to provide high-reliability while withstanding severe environmental conditions. A high-quality, high-precision, Elevation-over-Azimuth satellite tracking system suitable for X-, S- and L-band operation.
Utilizing the proven Orbital Data Bus (ODB) technology to provide integrated control of the antenna positioner and RF payload. Superior engineering, precision manufacturing and strict quality control standards result in near maintenance free operations making the 5.0AEBP 5.0m antenna system the optimal choice for service in remote locations and hostile environments.
Features
The CPI/Orbital 5.0AE3BP 5.0m Antenna Positioner is available with multiple reflector options. Standard equipment includes feed mounting poles, the ACU-3 Antenna Control Unit and a complete tool kit. Gold-on-gold contact slip rings facilitate unlimited azimuth rotation and the positioner operates on one or two RF channels. Completely eliminating reception loss caused by what is sometimes called a 'keyhole effect' in a near overhead pass the 5m positioner utilizes 3-axis tracking to reduce the worst-case maximum tracking velocity requirements for a low LEO to about 70 degrees/sec allowing use at any practical frequency.

Applications
The CPI/Orbital 5.0AE3BP 5.0m Antenna Positioner and its ancillary RF components are typically used for the following tracking applications:
– TT&C, general satellite uplink and downlink Telemetry,
– EOS, Tracking LEO and MEO Earth Observation Satellites.
System Control & Tracking

– ACU-3 Antenna control unit is standard and enables flexible control options
– Tracks satellites at X-band and below
– Customized controller interface options are available
Motors & Gears

– Mechanical system components are fully integrated with IP65-rated brushless servomotors and integrated brakes, matched and tuned motor drives and heavy-duty gears,
– Gears are automatically heated to achieve optimal performance at temperatures as low as minus 40 degrees Celsius (-40° C),
– Gears are completely enclosed in a cast housing operating inside a humidity-controlled environment to increase service life; lubrication not required for at least 10 years.
Pressurization
– Antenna positioner and feed are pressurized with dehydrated air to prevent corrosion of system components,
– Dry air is supplied using conventional transmission line dehydrator technology,
– Temperature and humidity sensors located in the electrical cabinet, gear enclosure, and feed; the antenna control unit monitors these areas and automatically purges the system of moisture,
– System continues to operate if pressurization fails.
Premium Features
– External structure made from aluminum and stainless steel to prevent corrosion,
– Red silicone seals and gaskets rated for the life of the system, silicone remains pliable,
– Remote control stow pin operation,
– Built-in maintenance ladder and platform.
Reflector & RF Options
– Supplied with a 5.0m composite reflector,
– Enclosure containing HPA and other RF electronics mounts on elevation arm,
– Feeds are available with optional downconverters and polarity switching,
– Communication with RF components is integrated into ACU-3 over the orbital data bus (ODB)
Special Order Options
– Mains AC-power supplied through antenna positioner for arm-mounted electronics,
– Gigabyte Ethernet (1,000Base-T) supplied through antenna positioner,
– Additional data pairs supplied internally through antenna positioner,
– Single-mode fiber supplied through antenna positioner
Please review specifications in datasheet in the download section.
General
CPI/Orbital Systems Low Earth Orbit (LEO) & Medium Earth Orbit (MEO) Antennas are smartly designed and ruggedly built to withstand the most extreme environments. The antenna positioners and satellite tracking antenna systems are powerful, fast and high-precision instruments that are suitable for Ka-, Ku-, X-, S- and L- Band tracking applications.  These Elevation-over-Azimuth positioners are offered in sizes 1.8m through 7.3m and provide accuracy, flexible operation and reliability unsurpassed in the industry.
Standard equipment with every antenna system includes; feed mounting poles, antenna tracking controller unit, and a complete maintenance tool kit.  The standard options support AC or DC power and 100BASE-T Ethernet and optional fiber are available. The multiple reflector size choices in diameters ranging from 1.5m through 7.3m, along with flexible single and multi-band RF options.
Each Antenna system is designed and built to meet the high performance and accuracy requirements of all demanding LEO and MEO satellite tracking ground station solutions;
– Telemetry, Tracking and Control (TT&C),
– Earth Observation Satellite (EOS),
– Direct Broadcast (DB),
– RADAR,
– Search & Rescue Satellite (SARSAT),
– Unmanned Aerial Vehicles / Remotely Piloted Vehicles Tracking (UAV/RPV),
– trailer mounted, and other custom tracking applications.
The reception loss caused by what is sometimes called a 'keyhole effect' is eliminated by the high speed of Azimuth rotation in Orbitals' 2-axis products. When tracking a near overhead pass the 2.4m through 3.7m products use a predictive motion with a peak azimuth velocity of 60 degrees/sec and acceleration at up to 60 degrees/sec².  The 1.8m product does these motions at up to 50 degrees/sec. These very high speeds serve to reduce loss of signals on a worst case near overhead pass.
Orbital's 5.0m and 7.3m antenna systems utilize 3-axis tracking to reduce the worst-case maximum tracking velocity requirement for a LEO to about 7 degrees/sec allowing use at any practical frequency.
CPI/Orbital 5.0AE3BP 5.0m Antenna Positioner for tracking LEO/MEO
CPI/Orbital 5.0AE3BP 5.0m Antenna Positioner for tracking LEO/MEO