Earth Station Antenna De-icing Systems (Caloplex)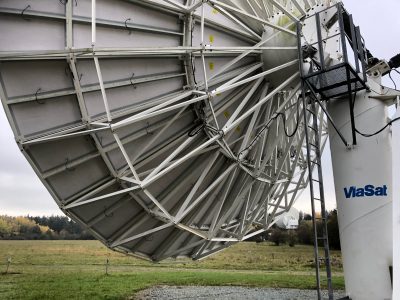 Perhaps you're interested in this alternative product:
Heating Pads
Skybrokers provides quality de-icing systems for your Earth Station Antenna. De-icing can be installed on your refurbished antenna prior to installation or can be installed when your antenna is already erected. Our professional team is able to assist in both options.
Heating pads have no additional thermal insulation and are highly flexible due to their design. The operating temperatures are between 0 and 900°C, according to type and design of the material and heating cables used. They cannot only be used on plain surfaces, but also for cylindrical pipes and containers. Different from the heating foils, the glass-or PTFE-insulated constant wattage heating cable is sewed onto a glass fiber support fabric in meandering shape (loop-shaped). A glass fiber covering material is fixed on top for mechanical protection. Sensors for temperature regulation as well as for limitation can be integrated. Precisely tailored installation is guaranteed by hooks, eyelets or lacings.
The system designs encompass but are 'Not Limited To' the following antenna manufacturers:
Andrew/ASC Signal/Kratos
Vertex/VertexRSI/GDSatcom/CPI
Viasat

Control systems
We offer the adequate electrical control for your heating. By knowing the exact general requirements, we can guarantee optimum operating conditions for the control of our heating systems. Our aim is the energy-conscious and cost-effective operation while ensuring gentle treatment of the material at the same time. The scope of service includes planning, implementation, testing according to current standards, documentation and – if necessary – installation.
Skybrokers provided and installed various Caloplex de-icing packages for Andrew 7.6m, RSI 9.2m, VertexRSI 7.2m and Viasat 11.3m antennas. Please check the image section for samples.
Earth Station Antenna De-icing Systems (Caloplex)
Earth Station Antenna De-icing Systems (Caloplex)