Keysight Handheld Spectrum Analyzer N9344C (500Hz-20GHz)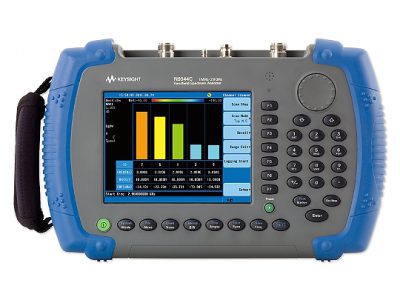 Keysight N9344C Spectrum Analyzer Handheld (500Hz-20GHz)
The Keysight N9344C Spectrum Analyzer (HSA) makes your job easier if you are making measurements in the field. It's got the features you need for operating in tough field environments, and its measurement performance gives you confidence the job's been done right. The N9344C HSA lets you automate routine tasks to save time and ensure consistent results. Field testing just got easier with the Keysight N9344C HSA.
The N9344C HSA, 20GHz handheld spectrum analyzer (HSA), is a rugged and weather-resistant tool that delivers best-in-class measurement performance, field test automation and rich measurement features.
Features
Channel scanner measures up to 20 channels simultaneously
Spectrum monitor with spectrogram display, record, and playback
Peak and average power measurement with Keysight U2020 X-Series and U2000 series USB power sensors
AM/FM/ASK/FSK modulation analysis and time-gated spectrum analysis
Applications
Sensing & Instrumentation,
Signal Processing,
Test & Measurement
Skybrokers recently provided an Earth Station antenna installer with a Keysight N9244C Spectrum Analyzer. The Keysight N9344C Handheld Spectrum Analyzer was previously manufactured as the Agilent N9344C Handheld Spectrum Analyzer.
Compact easy-to-use Spectrum Analyzer including tracking generator and 3 year warranty. Factory refurbished! We have various devices available. Recently Skybrokers shipped a Keysight N9244C Analyzer to a client is Australia!
Please refer to datasheet for specifications.
Keysight Handheld Spectrum Analyzer N9344C (500Hz-20GHz)