Kratos 3.5m LEO XY Earth Station Antenna for LEO and MEO satellites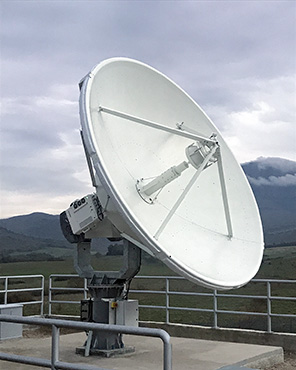 Perhaps you're interested in this alternative product:
Kratos 3.5m LEO XY Earth Station Antenna for LEO and MEO satellites
Model: E35C
Kratos Low Earth Orbit (LEO) and Medium Earth Orbit (MEO) antennas are precision engineered to provide stable, high throughput links to LEO and MEO satellite constellations. Designed to work in open air without a radome, they provide a high pointing accuracy with low backlash, controlled by Kratos' NGC2 Controller.
This antenna system is designed to address the stringent requirements of Low Earth Orbit tracking for operators who demand unsurpassed flexibility and electrical performance in high-quality, cost-effective, and reliable packages.
The electrical performance and exceptional versatility provide the ability to configure the antenna with your choice of linearly- or circularly- polarized combining networks and an optional conical scanning feed. That versatility is provided at the time of initial purchase, as well as in the future, as your satellite communication requirements evolve.
The antenna reflector is used worldwide in broadcast applications and high-density data, voice and communications networks. The Kratos 3.5m Earth Station Antenna features a computer-optimized precision single or two-piece spun aluminum reflector with a dual optics Gregorian sub-reflector . This reflector is designed for ease of installation even at Ka- or higher bands without the need for reflector adjustment, optimization or specialized tools.
The reflector is installed on an X-Y positioner, the X-Y positioner provides high output torque with low backlash, covers 360° continuous azimuth range (with slipring), and +5° to +175° elevation range and no keyhole effect.
This combination provides extremely accurate surface contour resulting in exceptionally high gain and closely controlled pattern characteristics. Kratos Earth Station Antennas provide maximum durability with minimal maintenance.

Features
Ka-band Application
Single or Two-Piece Main Reflector without need for adjustment, optimization or special tools
Bonded and riveted torsion box for rigidity
Heavy duty mounting ring for strength
Advanced dual reflector Gregorian optics
Conical Scanning Feed
X-Y pedestal with high precision (near-zero backlash) drives
On-axis, High Accuracy Absolute encoders (+/- .005°)
NGC Antenna Control Unit
Power and control interfaces
Beacon Tracking Receiver
3-year warranty on all structural components
Kratos 3.5m LEO XY Earth Station Antenna for LEO and MEO satellites
Kratos 3.5m LEO XY Earth Station Antenna for LEO and MEO satellites