Rohde & Schwarz Spectrum Analyzer FSEM30 (20kHz-26,5GHz)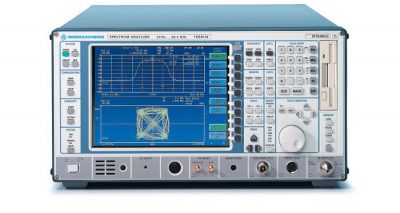 Perhaps you're interested in this alternative product:
R&S Spectrum Analyzer FSEM30 (20kHz-26,5GHz)
The R&S Spectrum Analyzer FSEM30 has been optimized both for general-purpose measurements and meeting the stringent requirements of testing advanced digital communication systems. Extremely high measurement speed, future-proof modular design and excellent characteristics put the analyzers right at the top of today's market.

Features
Combines the following functions: spectrum analysis and analysis of digitally modulated signals (option)
Spectrum analysis with maximum dynamic range
Adaptation of all models to your specific requirements by means of a wide range of options
Easy upgrading of basic models into top-class models

Key Facts
Bandwidth: 20Hz – 26.5GHz
Displayed noise floor ?150 dBm (typ.) in 10 Hz bandwidth
3rd-order intercept point +20 dBm typ
1 dB compression point of RF input +10 dBm
Phase noise at 10 kHz from carrier: ?123 dBc (Hz) (typ.) (FSEA 30)
Total level measurement uncertainty up to 1 GHz <1 dB, up to 7 GHz 1.5 dB
AM/FM audio demodulator (with built-in loudspeaker and headphones connector)
Internal RF trigger (trigger threshold approx. 20 dBm)
5 ms full-span sweep time with fully synchronized sweep (FSEA, FSEB), 150ms with FSEM, 230ms with FSEK
1 µs zero-span sweep time
Pretrigger and trigger delay
Gated sweep
Resolution bandwidths 1 Hz to 10 MHz, adjustable in steps of 1/2/3/5/10
Spectrum analysis with ultra-wide dynamic range
Noise figure = 18 dB/TOI = 20 dBm typ. (FSEB)
Internal RF trigger (trigger threshold approx. ?20 dBm)
Universal analysis of digital and analog modulated signals (option) such as BPSK,
QPSK, p/4-DQPSK, 8PSK, QAM, MSK, GMSK, 2FSK, AM, FM, PM
High-speed synthesizer 5 ms for full span (FSEA, FSEB)
Refresh rate, quasi-analog 25 sweeps/s
Large LC TFT display 24 cm/9.5″, active
Wide variety of options
The FSEM30 is a handy, robust and portable easy-to-use Spectrum Analyzer. Tested before release and we provide 90-day warranty. Skybrokers has provided various Satellite Service Providers and Teleport Operators in Poland and Germany with Rohde & Schwarz Spectrum Analyzers!
Please refer to datasheet for specifications.
Rohde & Schwarz Spectrum Analyzer FSEM30 (20kHz-26,5GHz)