VertexRSI Integrated L- to Ku-band Up/Dn Converter LT3600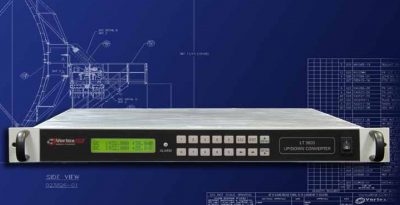 | | |
| --- | --- |
| Condition: | Used and tested |
| Model: | LT3600 |
| Manufacturer: | VertexRSI |
We're sorry but this product is sold
VertexRSI LT3600 Dual Frequency Converter L-Band Up/Dn Converter
The VertexRSI LT3600 Dual Frequency Converter L-band is a fully synthesized up and down converter covering full 575 MHz bandwidth receiving RF frequencies in up to 1 MHz steps. The unit incorporates extensive monitor and control functions that are accessible from the front panel as well as through a remote RS- 232/422/485 bus. The converter is housed in an enclosure destined for mounting in a standard EIA 19-inch rack, requiring a 1.75inch high vertical space.
The VertexRSI (GDSatcom) LT-3600 can be configured to accommodate various requirements involving an IF of 70 or 140 MHz, non-inverted or inverted spectrum, with standard or high- stability 10 MHz reference oscillator or any combination the user desires. Combined with jumper selectable and user programmable options, the LT-3600 is flexible to user requirements.

Features
Complete, Independent, Up and Down Converters in a single 1 RU package.
Dual stage, synthesized up and down converters.
950 to 1,525 MHz Std. or Extended 950 to 1,950MHz.
Inverting and Non-inverting LNB support.
Inverting or Non-inverting Up Converter Spectrum
Calibrated Gain and Level Monitoring.
Programmable cable slope compensation.
Low microphonic design
Full monitoring and control through LCD and Keypad Front Panel or serial remote
User programmable, Nonvolatile memory for multi-satellite operation.
Front Panel RS-485 Address, Alarm Masking, Reference Offset, Frequency, and Gain settings.
RS-232, RS-422, RS-485 Serial interface for remote M&C.
Universal 115/230 VAC Power Supply Input.
Automatic switch over to External 10 MHz Reference.
Flexible design can adapt to most user configurations.
Internal High Stability 10 MHz Reference (Optional).
DC and Reference Mux. on L-Band cables for external SSPB and LNB (Optional).
Wideband 950 – 1,950MHz (Optional).
We have various units available in 70MHz or 140MHz configuration, Standard and Wide-band. Units are tested before release EXW The Netherlands. Please ask us for more details.
VertexRSI Integrated L- to Ku-band Up/Dn Converter LT3600
VertexRSI Integrated L- to Ku-band Up/Dn Converter LT3600