Skybrokers de-installed 17 Satellite Earth Station Antennas at the Signalhorn teleport Backnang site close to Stuttgart in Germany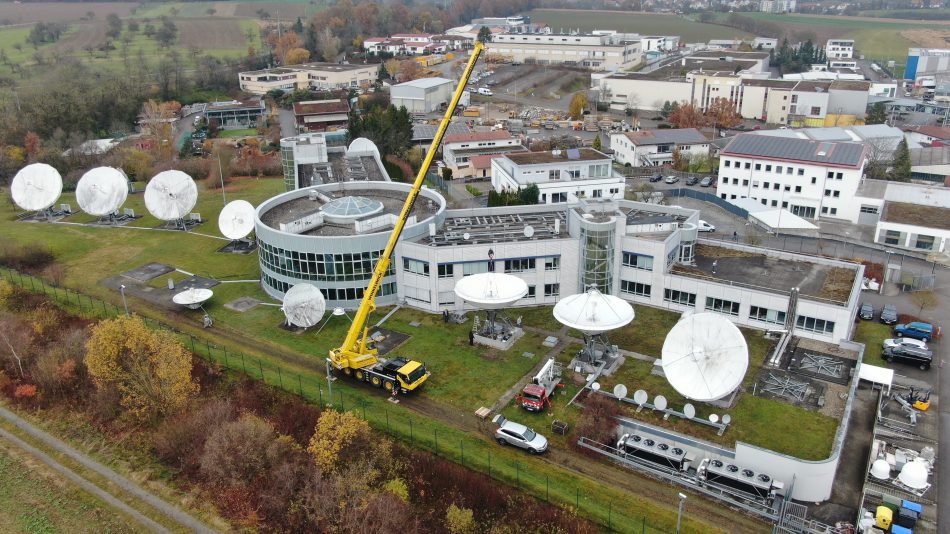 Skybrokers de-installed 17 Satellite Earth Station Antennas
In June 2021 Skybrokers was approached by Signalhorn Trusted Networks, GmbH. (formerly GE Space and Satlynx) to remove 17 Earth Station Antennas and approx. 20+ VSAT antennas from their facility in Backnang, close to Stuttgart in Germany. The deadline was set on end of February 2022, making it a challenging project with lots of planning and logistics.
The complete project was divided in five visits starting in October 2021 with the dismantling of an Andrew 4.6m and two 5.6m from ground level and four 3.7m antennas from the office building, including 15+ VSAT antennas.
In November 2021 we planned the de-installation of three Andrew 4.6m and two 7.6m antennas from ground level. The antennas were dismantled and removed from the site in a two-week time frame.
In January 2022 we took down two VertexRSI 4.8m and two 8.1m antennas from ground level. antenna parts were moved with special cranes to the parking lot for further dismantling and loading into trucks. Our team used cranes, cherry pickers and forklifts to dismantle the antennas in 18 days.
On February 25th 2022 we finished this large project by taking down the last antenna, an Andrew 7.6m Ku-band that was relocated to a satellite service provider in Holland.
Skybrokers de-installed 17 Satellite Earth Station Antennas in Backnang, Germany. We couldn't finish the works without the great help of Matthias Riede, Klaus Donner, Russell Webb and Georg Eggers with continuous support from local crane company Winkelhock and logistics provider Moovle from Holland.