ChinaSat-6D (ZX-6D) at 125° East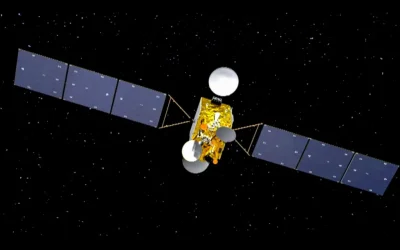 | | |
| --- | --- |
| Position: | 125° East |
| Manufacturer: | CASC |
| Operator: | ChinaSat |
| Launch operator: | CGWIC |
| Launch vehicle: | Long March 3B |
| Launch date: | 04/15/2022 |
| Expected lifetime: | 15 Years |
The ChinaSat-6D (ZX-6D) at 125° East satellite is operated by ChinaSat from China and is a replacement for the ChinaSat-6A satellite, which was launched in September of 2010. ChinaSat-6A was initially meant to remain in service until 2025, but a leak in the Helium Pressurization System caused its replacement to be launched early.
The satellite was built by the Chinese state-owned company China Academy of Spaceflight Technology, and is equipped with 25 C-band transponders, two solar panels, batteries, and an on-board propulsion system. The spacecraft is expected to have an on-orbit lifespan of 15 years.
ChinaSat-6D (ZX-6D) at 125° East was orbited on April 15th, 2022 with a Long March 3B/E launch vehicle, operated by CWGIC from the Launch Complex-2 (LC-2) at the Xichang Satellite Launch Center in China.
ChinaSat-6D (ZX-6D) at 125° East