ChinaSat-6D (ZX-6D) at 125° East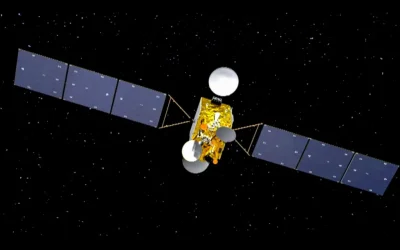 | | |
| --- | --- |
| Position: | 125° East |
| Manufacturer: | CASC |
| Operator: | ChinaSat |
| Launch operator: | CGWIC |
| Launch vehicle: | Long March 3B |
| Launch date: | 04/15/2022 |
| Expected lifetime: | 15 Years |
ChinaSat-6D (ZX-6D) at 125° East
The ChinaSat-6D (ZX-6D) at 125° East satellite is operated by ChinaSat from China and is a replacement for the ChinaSat-6A satellite, which was launched in September of 2010. ChinaSat-6A was initially meant to remain in service until 2025, but a leak in the Helium Pressurization System caused its replacement to be launched early.
The satellite was built by the Chinese state-owned company China Academy of Spaceflight Technology, and is equipped with 25 C-band transponders, two solar panels, batteries, and an on-board propulsion system. The spacecraft is expected to have an on-orbit lifespan of 15 years.
ChinaSat-6D was orbited on April 15th, 2022 with a Long March 3B/E launch vehicle, operated by CWGIC from the Launch Complex-2 (LC-2) at the Xichang Satellite Launch Center in China.
China Satellite Communications Co. Ltd. (ChinaSat) offers satellite communications and broadcasting services. The Company operates 15 satellites and provides satellite broadcastings, emergency support, application businesses, and customized solution services. China Satellite Communications covers its businesses in China, Australia, South-East Asia, South Asia, Middle-East, Europe and Africa.
ChinaSat is a main subsidiary of China Aerospace Science and Technology Corporation (CASC), that partially owns also Hong Kong based satellite operator APT Satellite.
ChinaSat-6D (ZX-6D) at 125° East