ChinaSat
China Satellite Communications Co. Ltd. (ChinaSat) offers satellite communications and broadcasting services. The Company operates 15 satellites and provides satellite broadcastings, emergency support, application businesses, and customized solution services. China Satellite Communications covers its businesses in China, Australia, South-East Asia, South Asia, Middle-East, Europe and Africa.
ChinaSat is a main subsidiary of China Aerospace Science and Technology Corporation (CASC), that partially owns also Hong Kong based satellite operator APT Satellite.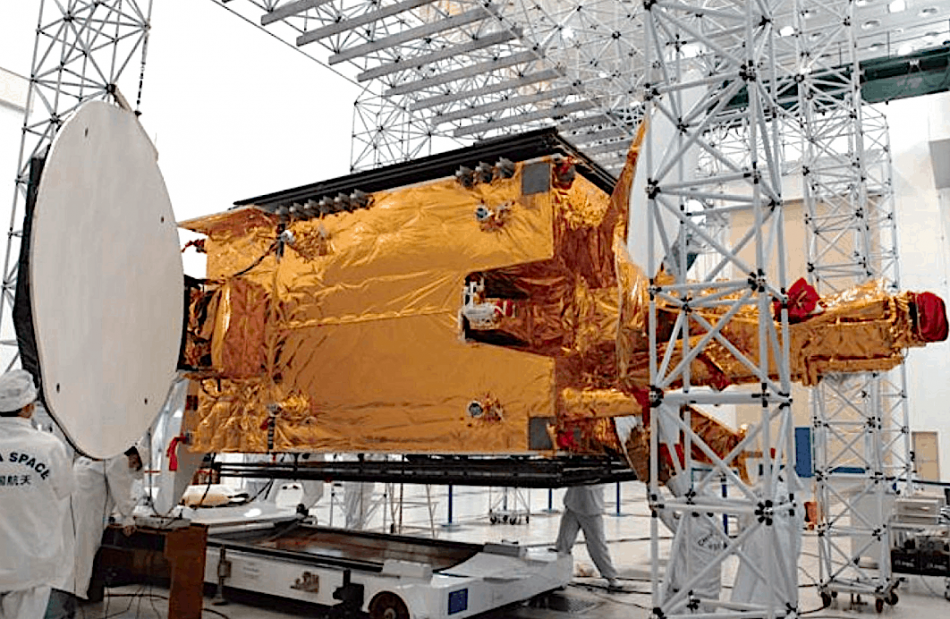 Company History
During China's reform period, satellite TV had a more problematic history. Like cable, dynamic for its development, came as part of the 1983 reform. As part of the government's overall project of providing television services to the entire nation, China Telecommunications Broadcast Satellite Corporation (ChinaSat) was formed under the Ministry of Radio, Film and Television. In 1993 interdepartemental rivalry saw ChinaSat switch allegiances to the Minitry of Posts and Telecommunictions (ChinaSat 2000).
Satellite TV technology is a potent expression of the post-Mao nation-building and modernization ideology of the government and the CCP. It's capacity to bring television signals to the most remote areas and its use of extremely costly a sophisticated military-derived technologies of rocketry, telecommunication and computing make satellite and internationally visible demonstration of China's emergence as a world power. The CCP gevernment's pre-occupation with promoting this particular view of China's nationhood and also maintaining its position as the China's nation's only legitimate representative, gave it a strong motivation to invest heavily in satellite technology in the 1980's.
ChinaSat began in 1985 by leasing transponders on Intelsat, and purchased the aging Spacenet-1 in 1992. In 1988 China used its own rockets to launch two American-built Dongfang hong (The East is Red) satellites, so that by early 1990's, China had begun to acquire significant satellite capability (ChinaSat 2000).
The China Direct Broadcast Satellite Company operates the ChinaSat communications satellites. The series were previously operated by the China Satellite Communications Corporation, and before that the China Telecommunications Broadcast Satellite Corporation, which was owned by China's Ministry of Post and Telecommunications.
Satellites formerly operated by the Sino Satellite Communications Company and the China Orient Telecommunications Satellite Company was renamed with ChinaSat designations following their mergers with the China Satellite Communications Corporation to form China DBSAT. ChinaStar-1 became ChinaSat-5A, Sinosat-1 became ChinaSat 5B, and Sinosat-3 became ChinaSat 5C.
The finance available for developing and implementing satellite technology encouraged other Chinese ventures. As a result China Aerospace, the Defense, Science and Technology Commission, The People's Bank of China and the Government of Shanghai formed SinoSat in 1994. SinoSat dominated the Chinese satellite market and used European satellite technology rather than American hardware. German industrial companies like Daimler Benz and Dornier show interest in the Chinese satellite industry.
Hong Kong based telecommunications companies were also active during this period; AsiaSat, a consortium of Chinese, Hong Kong and European telecommunications companies including the China International Trust & Investment Corporation, Hutchison Whampoa and UK based Cable & Wireless (AsiaSat 2000). In 1990 AsiaSat-1 satellite was launched by the group, which was China's first commercial satellite.
ChinaSat enjoys the richest satellite resources in China. The Company has a professional team, outstanding system integration capacities and provides 24/7 quality services as well as integrated (space & terrestrial) satellite communications and broadcasting services.
In October 2019 ChinaSat established strategic partnership with Gilat Satellite Networks Ltd. From Israel to jointly provide advanced satellite communication services covering Aero, Land and Maritime fixed and mobility applications.
In November 2019 ChinaSat-18 satellite was launched by CGWIC launch operator on a Long March 3B launch vehicle from the Xichang Satellite Launch Center. ChinaSat lost contact with the satellite following separation. The satellite remains in a geostationary transfer orbit instead of the intended circularized geosynchronous orbit. Rescue attempts failed and the company put out an insurance claim.
On July 9th 2020 ChinaSat launched APSTAR-6D, owned by satellite operator APT Satellite, with CGWIC launch operator on a Long March 3B carrier rocket from Xichang Satellite Launch Center in southwest China's Sichuan Province. The APSTAR-6D satellite was the 12th communications satellite launched by CGWIC, was designed and manufactured by the China Academy of Space Technology (CAST), a subsidiary of the China Aerospace Science and Technology Corporation (CASC).

All trademarks, logos and images mentioned and showed on this page are property of their respective owners.

Resources
www.chinasatcom.com
www.csat.spacechina.com
www.bloomberg.com
www.wikipedia.org
www.satbeams.com
www.youtube.com
www.cbinsights.com
Media in China: Consumption, Content and Crisis by Mark Harrison
www.spacewatch.global
www.spacenews.com edition November 19th 2019
www.cgtn.com edition July 9th 2020
www.xinhuanet.com edition July 9th 2020
www.cgwic.com