EchoStar XXI (TerreStar-2, EchoStar-21) at 97° West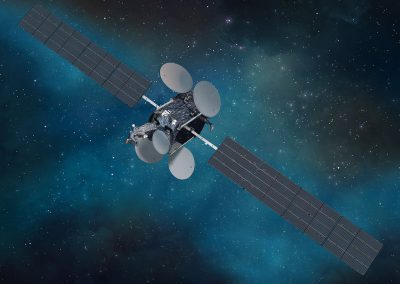 In August 2006 TerreStar Netorks, Inc. ordered the TerreStar-2 satellite that was a ground spare for their TerreSat-1 spacecraft. Space Systems/Loral (SS/L) was responsible for the design and built of the TerreStar-2 Mobile Satellite Services (MSS) program. The TerreStar satellites, together with an Ancillary Terrestrial Component (ATC), is designed to provide next-generation, 2 GHz mobile voice and data communications, monitoring and messaging services throughout the United States.
TerreStar-1, based on SSL's space-proven SSL-1300 platform, has a service life of 15 years and will carry a state-of-the-art MSS payload featuring a large unfurlable reflector. The satellite will be capable of generating hundreds of spot beams covering the Continental U.S., Canada, Alaska, Hawaii, Puerto Rico and the U.S. Virgin Islands. SS/L's contract with TerreStar also included an option for construction of a second satellite, TerreStar-2.
On October 19th, 2010, TerreStar Networks filed for Chapter-11 bankruptcy and in 2012 the company was sold out of bankruptcy to Dish Network, Corp. a subsidiary of EchoStar. TerreStar-2 satellite was transferred to EchoStar and renamed EchoStar XXI.
The satellite was launched on June 8th, 2017, on a Proton M rocket, operated by launch operator ILS from the Baikonour Cosmodrome launch site in Kazachstan.
EchoStar XXI (TerreStar-2, EchoStar-21) at 97° West