Telesat LEO Vantage-3 (LEO-3)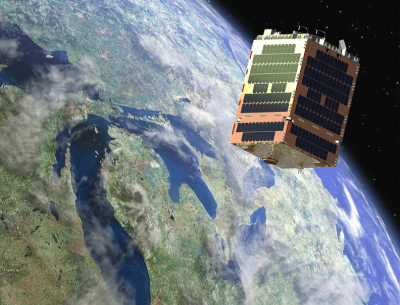 Telesat LEO Vantage-3 (LEO-3) at 1,015km
In April 2016 satellite operator Telesat from Canada ordered two prototype Ka-band HTS (High Throughput Satellite) communication satellites, as part of a test and validation phase for the advanced, global LEO satellite constellation Lightspeed that Telesat is developing.
Telesat would test and demonstrate two distinct spacecraft in LEO, a key step in optimizing the design and performance of Telesat's contemplated LEO constellation. One of the satellites (LEO-2) was be built by Space Systems/Loral (SS/L) of Palo Alto, California, and the other satellite (LEO-1) by Surrey Satellite Technology Limited (SSTL). LEO-2 was lost during the launch on a Soyuz launcher operated by ILS.
Telesat LEO Vantage-1 (LEO-1) satellite was launched on January 12th, 2018 as a co-passenger on the PLSV launch vehicle operated by ISRO from India.
On July 18th, 2023 launch operator RocketLab launched the Telesat LEO Vantage-3 (LEO-3) satellite with a smallsat launch that also had three Spire Global satellites on board. The LEO-3 satellite was integrated by Space Logistics Company Space Flight Laboratory (SFL) from Canada, and will demonstrate the continuity for customer and ecosystem vendor testing campaigns.
Telesat Inc. (formerly Telesat Canada, Inc) is a satellite operator headquartered in Ottawa, Ontario in Canada. The company was founded in 1969 and has offices in the USA, Brazil and the UK. Telesat owns a fleet of 15 satellites and operates 13 additional satellites for other entities.
Telesat is, after Intelsat, SES and Eutelsat, the fourth-largest fixed satellite services provider in the world. Telesat was originally jointly owned by the federal government and the Canadian telecommunications consortium, Stentor Canadian Network Management. In 1992, the federal government sold its stake in Telesat Canada to Alouette Telecommunications, Ltd, a company jointly owned by Stentor, including Bell, and Spar Aerospace. Bell completed the acquisition of Telesat in 1998, when it acquired 100% ownership of Telesat. In 2007 Loral Space & Communications along with Canada's Public Sector Pension Investment Board acquired Telesat for 2.8 billion USD, with Loral owning 62.7% of Telesat.