INNOVA Space
INNOVA Space is a New-Space start-up that designs and develops its Libertadores de América satellite constellation of 10x10cm PocketQubes (Pico-Satellites) providing IOT communications to Latin America's growing agriculture, mining, oil and gas sectors as part of a wider constellation of satellites. The company is planning for a constellation containing a total of 90 LEO Satellites. INNOVA Space is based in Mar Del Plate in Buenos Aires in Argentina.
The company recently launched two new LEO satellites, MDQSAT-1A (Dibu Martínez) and MDQSAT-1B (Juana Azurduy) with the Transporter-6 RideShare mission on a SpaceX' Falcon 9 rocket on January 3rd, 2023. The Pico-Satellites will join the MDQSAT-1 (General San Martín), the company's first demo satellite, which was launched on January 13th, 2022 via Pico-Satellite Cluster 4 developed by Scottish Alba Orbital.
MDQSAT-1A satellite carried the name of Liberator Simon Bolivar but was renamed after Emiliano "Dibu" Martinez who became a hero in Argentina due his controversial celebration after the national team achieving the World championship football 2022 at Lusail Stadium in Qatar.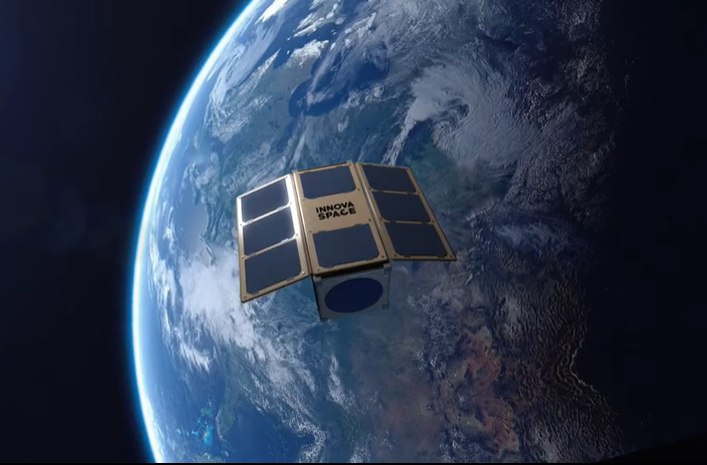 Company History
INNOVA Space was founded in 2019 by entrepreneur Alejandro H. Cordero (CEO). Cordero led an educational project with twelve seventh-year students of the School of Technical Education No. 5. The Team developed a tiny 1P PocketQube satellite named SatDuino.
The ambition of Cordero and the group of students, who worked daily on designing a satellite, attracted not only the attention of the Mar del Plata media, but also the accelerator of the Neutron project, which made its first investment in 2019. This stimulated Cordero with two former students, Luca Urariart and Ivan Milena, to create INNOVA Space.
In 2020, Cordero secured funding of 14.5 million pesos from a non-refundable contribution (ANR) from the Ministry of Productive Development of the Nation to realize the development and launch of the Pico-Satellite.
After overcoming disbelief and technical challenges the first in Argentina built Pico-Satellite was launched on January 13th, 2022 on a Falcon 9 rocket operated by SpaceX.
In September 2021 the company signed an agreement with Singapore-based launch operator Equatorial Space Systems. The agreement includes up to two launches per year to fully deploy INNOVA's satellite network using their Hybrid-engine Volans launcher.
On January 3rd, 2023 the company launched their MDQSAT-1A and -1B Pico-Satellites with the Transporter-6 RideShare mission on a Falcon 9 rocket operated by SpaceX.
| | | | | |
| --- | --- | --- | --- | --- |
| Satellite | Mission | Launch Date | Launcher | Launch Operator |
| MDQSAT-1 (General San Martin) | Transporter-3 | Jan 13th, 2022 | Falcon 9 | SpaceX USA |
| MDQSAT-1A (Dibu Martinez) | Transporter-6 | Jan 3rd, 2023 | Falcon 9 | SpaceX USA |
| MDQSAT-1B (Juana Ururduy) | Transporter-6 | Jan 3rd, 2023 | Falcon 9 | SpaceX USA |

All trademarks, logos and images mentioned and showed on this page are property of their respective owners.

Resources
www.innova-space.com
www.newspace.im
www.zoominfo.com
www.news.satnews.com edition September 26th, 2021
www.bnamericas.com edition December 29th, 2022
www.satsearch.co
www.space.skyrocket.de
www.nanosats.eu
www.thestoriest.com edition December 30th, 2022
www.albaorbital.com
www.thedailyguardian.net
www.spacex.com