CPI Indoor Rackmount TWTA 750W TouchPower Ku-band model T5UI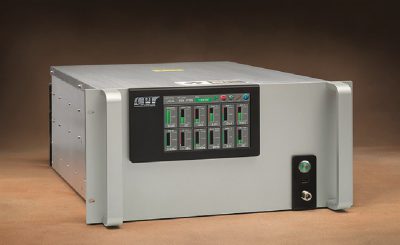 | | |
| --- | --- |
| Condition: | New OEM |
| Model: | T5UI |
| Manufacturer: | CPI, Inc. |
CPI Indoor TWTA 750W TouchPower Ku-band model T5UI, built for Satellite Communications Uplink Applications
The CPI model T5UI Indoor TWTA provides 750W of power in a 5 rack unit package, digital ready, for wideband, satellite service within the ku-band frequency range.

Touchscreen Graphical Interface
State of the art touchscreen interface with both amplifier and/or system level control capabilities. Includes fault logs, parameter trending and scopescreen for monitoring performance. Internal switch control eliminates need for external controllers.

Easy to Maintain
Modular design and built-in fault diagnostic capability with convenient and clearly visible indicators for easy maintainability in the field. A USB port is available for uploading new firmware and system configurations, and downloading logs and system configurations for cloning to other units.

Options 
Remote control panel
Redundant and hybrid power combined sub-systems
Integral linearizer
Integral block upconverter (BUC) – see TD-198 or contact CPI for specifications.
LifeExtender/LifePredictor
Uplink power control
External receive band reject filter (increases loss by 75 dB min. up to 12.75 GHz)

Features
Ethernet interface
SNMP-interface (v1, v2, or v3)
Serial interface (compatible with CHPA)
CAN-Bus architecture improves reliability and noise immunity

Meets Global Requirements
Meets International Safety Standard EN-60215, Electromagnetic Compatibility 2014/30/EUand Harmonic Standard EN-61000-3-2 to satisfy worldwide requirements. CE Marked.

Worldwide Support
Backed by over 40 years of satellite communications experience, and CPI's worldwide 24-hour customer support network that includes more than 20 regional factory service centers.

TWTA's integrated with refurbished Earth Station Antenna
CPI Indoor TWTA's are engineerd to consistantly deliver reliable, high efficiency performance in any environment. As integrator, Skybrokers can integrate, install and test the CPI TWTA's with our used and refurbished Earth Station antennas. Please feel free to inquire.
CPI Indoor Rackmount TWTA 750W TouchPower Ku-band model T5UI
CPI Indoor Rackmount TWTA 750W TouchPower Ku-band model T5UI