Hewlett Packard Spectrum Analyzer HP8592A (50kHz-22GHz)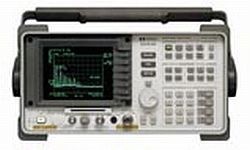 Perhaps you're interested in this alternative product:
HP Spectrum Analyzer HP8592A (50kHz-22GHz)
The HP Spectrum Analyzer HP8592A is loaded with features and benefits that don't just help you make measurements, but help you make them more easily and more conveniently. The analyzer'a wide frequency range (50kHz to 22GHz) and amplitude range (-109dBm to +30dBm) enable you to make almost any RF and microwave measurement.
Easy-to-use offering a wide range of performance and optional capability to meet your measurements. Skybrokers recently provided a HP8592A to Satellite Service Provider in the UK. We still have various units available with extended options. Please feel free to inquire for more information.
Hewlett Packard Spectrum Analyzer HP8592A (50kHz-22GHz)