Paradise Datacom L-band Satellite Modem P310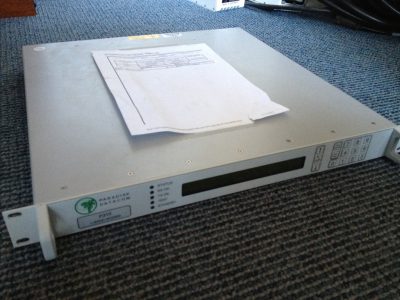 We're sorry but this product is sold
Paradise Datacom P310 Satellite Modem L-band (USED)
The Paradise Datacom P310 satellite modem has been designed for costs-critical modem applications and discerning users who demand quality and reliability at an affordable price.
The Paradise Datacom P310 and P310 Turbo are L-Band versions of the popular P300-Series Modems. These provide the same full Modem feature set together with a direct L-Band 'radio' interface. When coupled with a Paradise Datacom (or other suitable) Block Up-Converter (BUC), the P310 Modem becomes a low-cost terminal, to which only a dish needs to be added to form a complete earth station.
The P310 can provide the power (depending on BUC size) and reference frequency needed by the BUC, as well as provide power to the LNB in the receive path. With additional menu features such as the ability to set the actual transmit and receive frequencies at the dish, from the modem, the P310 Turbo is the most configurable, cost effective, L-Band Satellite Modem available.
Features
Highly configurable (field upgradeable) feature set
8kbps to 5.0Mbps in 1bit per second steps
Operates in L-Band 950 to 1,750Mz (2,150MHz optional) in 100Hz steps
15V/24V D.C @ 500mA LNB power supply. 24V or 48V 100W BUC power supply (option)
LNB, BUC, SSPA reference frequency provided by internal 10MHz oscillator.
Higher stability internal oscillators (option)
BPSK, QPSK and OQPSK operation (8PSK optional)
Multi-rate Viterbi, Reed-Solomon, Sequential and Turbo (options)
RS422, V.35 & RS232 interfaces (G.703 and Eurocom D1 interfaces optional)
IBS or IDR framing (options)
Fully variable rate ESC channel for Closed Net plus ESC operation (option)
Drop & Insert and Extended Drop & Insert (options) Internal BER tester and Monitor AGC port (options) Automatic Uplink Power Control (AUPC option)
Built-in 1:1 Redundancy Controller
Available from the shelf 950 euro EXW The Netherlands, tested and comes with a 30-day warranty.
Paradise Datacom L-band Satellite Modem P310
Paradise Datacom L-band Satellite Modem P310