RSI 9.2m C-band Earth Station Antenna with motorized Tripod Mount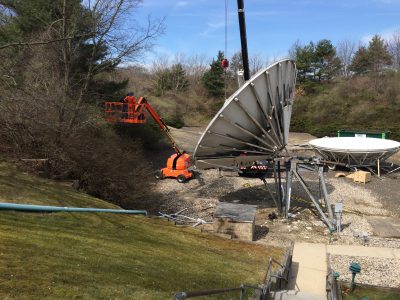 Perhaps you're interested in this alternative product:
RSI 9.2m Satellite Antenna, 4-port C-band with motorized Tripod Mount
The RSI (VertexRSI) 9.2m KPC Cassegrain Earth Station Antenna,  is configured in C-band Rx/Tx and has a Motorized Tripod Mount with AZ/EL jackscrews, a Hub enclosure and 24-piece precision-formed aluminum AccuShape panels with heat-diffusing white paint.
The model 920CS (C-band) and 920KS (Ku-band) antenna are designed for high-performance video and data communications. These antennas meet the new FCC requirements for 2degr. Satellite spacing.
Features
Qualified for 2degr. Satellite spacing
Meets FCC requirements of video uplinks
AccuShape panels provide superior contour accuracy
Complete arc coverage in less than one minute with high-speed motorization option
Optional motorization & tracking
Protection and maintenance of LNA's afforded by extra-large Antenna Hub
Stiff, rugged Tripod Mount for accurate pointing
The RSI 9.2m Satellite Antenna System will be completely reconditioned and refinished to look and perform like new. We complete the antenna with new motors and gearboxes, new limits, reflector hardware kits are checked out and a documentation package and foundation plans are provided. System is guaranteed to meet OEM specs when properly installed by our professional installation team.
This antenna was dismantled in 2016 as part of a Teleport decommissioning in New York, USA. The antenna was de-installed by a professional installation team and requires full antenna refurbishment. Please ask us for details.
RSI 9.2m C-band Earth Station Antenna with motorized Tripod Mount
RSI 9.2m C-band Earth Station Antenna with motorized Tripod Mount