VertexRSI 6.3m Ku-band Earth Station Antenna with motorized Pedestal Mount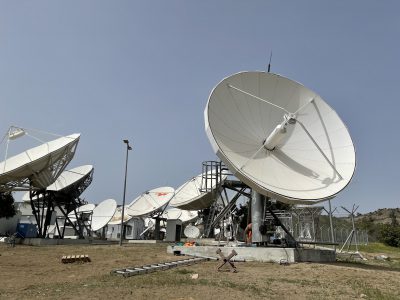 | | |
| --- | --- |
| Condition: | Used and refurbished |
| Model: | 6.3KXK |
| Manufacturer: | VertexRSI |
We're sorry but this product is sold
Perhaps you're interested in these alternative products:
VertexRSI 6.3m Satellite Antenna, 4-port Ku-band with 3-axis motorized Pedestal Mount
The VertexRSI 6.3m KXK Cassegrain Earth Station Antenna is configured in Ku-band Rx/Tx, 4-port Linear Feed and includes a 3-Axis Motorized Kingpost Pedestal Mount with AZ/EL jackscrews, a Hub enclosure and 20-piece precision-formed aluminum panels with heat-diffusing white paint.
The VertexRSI 6.3m Satellite Antenna delivers exceptional performance for Rx/Tx and Rx-only applications for C- through Ka-band frequencies. This antenna offers a deep-dish reflector that incorporates precision-formed panels, contoured radials and a machined hub assembly. It features an innovative Compact Cassegrain feed and subreflector design which results in high gain, low noise temperature, high antenna efficiency and excellent rejection of noise and microwave interference.
The reflector is supported by a galvanized kingpost pedestal that provides the required stiffness for pointing and tracking accuracy. The pedestals are designed for full orbital arc coverage and are readily adaptable to ground or rooftop installations. The electrical performance is compliant with FCC 25.209 and ITU- RS-580 sidelobe specifications. Type Approved configurations are available for INTELSAT (F2, E2), AsiaSat, Hispasat or Singapore Telecom.
Key Features 
'Type-Approved' bolt-together configurations
Self-aligning all-aluminum reflector, no field alignment
Fully interchangeable reflector components
Meets FCC 25.209 regulations at Ku-band and beyond the first sidelobe at C-band
Designed for 3.4 to 31GHz operation
Feed systems are factory assembled and tested
Jack screws in Azimuth and Elevation
Galvanized steel Elevation over Azimuth pedestal
Survives 125mph (200km/h) winds in any position
The Antenna System will be completely reconditioned and refinished to look and perform like new. We complete the antenna with new motors and gearboxes, new limits, reflector hardware kits are checked out and a documentation package and foundation plans are provided. System is guaranteed to meet OEM specs when properly installed by our professional installation team. Please ask us for possibilities for a turn-key antenna installation.
Note: This antenna was dismantled in January 2020 with a two member professional installation team. This antenna has been sold recently and we can offer alternatives, please ask us for details.
VertexRSI 6.3m Ku-band Earth Station Antenna with motorized Pedestal Mount
VertexRSI 6.3m Ku-band Earth Station Antenna with motorized Pedestal Mount