Galaxy-34 (G-34) at 129° West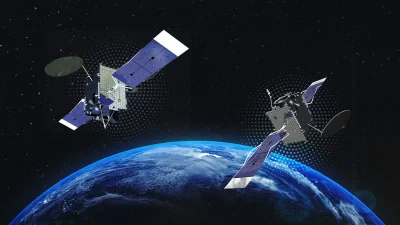 | | |
| --- | --- |
| Position: | 129° West (Inclined orbit) |
| Manufacturer: | Orbital ATK |
| Operator: | Intelsat |
| Launch operator: | SpaceX |
| Launch vehicle: | Falcon 9 |
| Launch date: | 10/09/2022 |
| Expected lifetime: | 15+ Years |
The Intelsat Galaxy-34 (G-34) at 129° West is a GEO communications satellite operated by satellite operator Intelsat and is replacing Galaxy 12 at 129° West. The Intelsat Galaxy 34 (G-34) at 129° West will provide service continuity for distribution to cable head-ends throughout the USA. With full C-band capabilities in addition to steerable Ka-band and Ku-band beams, G-34 is part of a comprehensive plan to upgrade the entire Intelsat Galaxy fleet.
The G-33 and G-34 satellites were both built by Northrop Grumman (satellite division aka Orbital ATK), after being selected by Intelsat in 2020. Both satellites will operate in the upper portion of the C-band spectrum, which is a range of wireless radio frequencies used for telecommunications and data connections around the world. The satellites are the next satellites in Intelsat's comprehensive Galaxy fleet refresh plan, a new generation of technology that will provide Intelsat Media customers in North America with high-performance media distribution capabilities and unmatched penetration of cable head-ends. It is critical to Intelsat's U.S. C-band clearing strategy.
G-34 replaced Galaxy 12 at 129° West when it was put in service in late 2022. This satellite will serve as the new restoration payload for Intelsat's Galaxy cable distribution customers, allowing the previous restoration role at 121° West to be converted to a core cable distribution satellite.
G-33 and G-34 were orbited in a dual launch on October 8th, 2022 on a Falcon 9 rocket operated by launch provider SpaceX from the Space Launch Complex 40 (SLC-40) at Cape Canaveral Space Force Station in Florida, USA. The launch was delayed due to an auto-abort by Falcon 9 at T-30 seconds that stopped the count for the day.
Galaxy-34 (G-34) at 129° West