Ovzon-3 at 60° East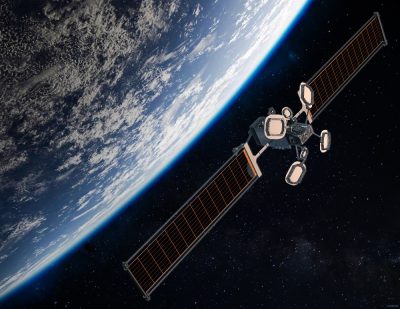 The Ovzon-3 at 60° East satellite is a smaller than traditional communications satellite operated by Ovzon from Sweden/USA. The 1,500 kgs heavy satellite was ordered in December 2018 from SSL (Maxar Technologies), dedicated to meeting the demand for increased mobile broadband connectivity in underserved regions. The company selected the new mid-size SSL-500 Legion class platform for its first satellite. The satellite will be equipped with a third party built central on-board processor (OBP) attached to high-performance steerable Ku-band beams.
In September 2020 the company selected Eutelsat to control their Ovzon-3 satellite throughout its lifetime. Ovzon will operate the satellite from Eutelsat's Network Operations Center in France.
The Ovzon-3 at 60° East was originally scheduled for a dual launch on SpaceX's Falcon Heavy rocket in 2021, but the launch contract was changed to an Ariane 5ECA+ launcher, operated by Arianespace, to deliver the payload into GTO.
In February 2022 Ovzon rescheduled the launch of their Ovzon-3 spacecraft for launch in Q4 2022 or Q1 2023. The rescheduling is due to delayed components with Maxar Technologies, including reaction wheels from subcontractor Honeywell Aerospace. The satellite was to be launched by Arianespace but could not accommodate. Ovzon switched to launch operator SpaceX in February 2023 for launch in Q4 2023.