Advantest Spectrum Analyzer R3263 (9kHz-3GHz)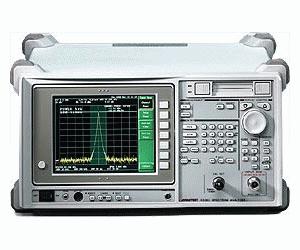 | | |
| --- | --- |
| Condition: | Used and tested |
| Model: | R3263 |
| Manufacturer: | Advantest |
Advantest Spectrum Analyzer R3263 (9kHz-3GHz)
The Advantest R3263 is a 3GHz Spectrum Analyzer developed for digital mobile communications equipment. Its basic specifications included a frequency range of 9kHz to 3GHz, span accuracy of +/- 1% or less, residual FM of 3 FM of 3Hz (max) /0.1 sec. And drift of 20Hz or less.
Features

Measurement Frequency Range: 9kHz to 3GHz
Frequency Stability
Residual FM: 3 Hzp-p Max./0.1 s
Drift: 20 Hz Max. (Span ≤ 5MHz)
Frequency Span Accuracy: ± 1% max. (Span ≤ 5MHz)
Time Domain Measurement: 50 μs to 2 s/100 ns Resolution
Resolution Bandwidth: 300Hz to 3MHz, 5MHz (1, 3 Steps)
GSM/DCS1800/DCS1900 Tx Measurement Function Pro-
vided Standard
GSM Tx Plus (Option 55/58) Enables GSM/DCS1800/
DCS1900 Frequency Error, Phase Error and Bit Synch Tx
Power Measurement
GSM Graphics (Option 77) Enables Detailed Modulated
The Advantest R3263 comes with CW mode for spectrum analysis and TRANSIENT mode for powerful support of burst wave analysis. It also comes equipped with a burst envelope measurements function for measuring TDMA digital modulated signal ON/OFF characteristics and a burst spectrum measurement function enabling spectrum analysis in the burst ON interval. By adding the GSM Tx Plus Option, measurement or parameters such as GMSK signal frequency and phase errors and bit synch power can be done at the touch of a button.

Measurement Items
Burst envelope measurement
Burst spectrum measurement
Modulation spectrum measurement
Switching spectrum measurement
Spurious emission intensity measurement
Power measurement
Compact easy-to-use Spectrum Analyzer including color LCD-display. Tested before release and we provide 90-day warranty. Skybrokers shipped various units to Teleport and Broadcasting clients in Europe and the Middle-East (Dubai UAE).
Please refer to datasheet for specifications.
Advantest Spectrum Analyzer R3263 (9kHz-3GHz)