Andrew 3.7m C-band Earth Station Antenna 2-port RxTx with Fixed Pedestal Mount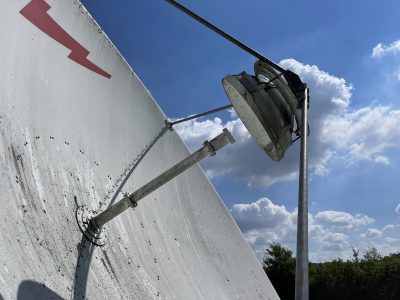 | | |
| --- | --- |
| Condition: | Used and refurbished |
| Model: | ES37C |
| Manufacturer: | Andrew Corp. |
Perhaps you're interested in these alternative products:
Andrew 3.7m C-band Earth Station Antenna 2-port RxTx with Fixed Pedestal Mount
The Andrew 3.7m Earth Station Antenna features advanced dual-reflector technology together with a two-piece precision spun aluminum reflector assembly. This combination provides extremely accurate surface contour, exceptionally high gain, superior efficiency, and closely controlled pattern characteristics.
Andrew's wide selection of type-approved antennas speed system commissioning. The Andrew 3.7m Type-Approved Earth Station Antenna can be deployed in the field with minimal testing of G/T to become fully certified as an Intelsat standard E-2, or E-1 station.
Andrew Satellite Antennas provide maximum durability with minimal maintenance. The hot-dipped galvanized steel ground mount assembly ensures extended product life. Galvanized and stainless-steel hardware maximize corrosion resistance. The easily installed pedestal allows for non-critical foundation orientation. The 48inch (1219mm) diameter by 24inch (610mm) equipment enclosure (Antenna hub or drum) with doors allows hub mounting of HPA's and LNA systems.
Features
High gain, excellent pattern characteristics
Gregorian optics
Self-aligning main reflector, no special field alignment
180 MPH high wind option available
This Andrew (ASC Signal) Satellite Antenna, 3.7m C-band, Rx/Tx, 2-port LP feed, Dual reflector comes with a fixed Pedestal mount. This Prime focus antenna is Eutelsat and Intelsat approved and has been installed all over the world.
System will be completely reconditioned and refinished to look and perform like new. We complete the antenna with new motors/reducers, reflector hardware kits are checked and completed and a documentation package and foundation plans are provided. System is guaranteed to OEM specifications when properly installed by one of our professional installation teams.
We have various Andrew 3.7m Satellite Antenna systems coming in soon!
Andrew 3.7m C-band Earth Station Antenna 2-port RxTx with Fixed Pedestal Mount
Andrew 3.7m C-band Earth Station Antenna 2-port RxTx with Fixed Pedestal Mount