Andrew ACS3000 Antenna Control System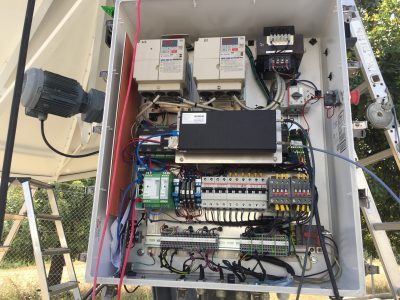 | | |
| --- | --- |
| Condition: | Used and tested |
| Model: | ACS3000 |
| Manufacturer: | Andrew Corp. |
We're sorry but this product is sold
Perhaps you're interested in these alternative products:
Andrew ACS3000 Antenna Controller System
The Andrew ACS3000 Antenna controller was the most innovative antenna controller on the market. This device utilized a patented 3-Point-Peak algorithm to locate the targeted satellite. The ACS3000 controller provides precision three-axis control for antenna azimuth, elevation and feed polarization.
All parameters are fully programmable and displayed from any IP device on an Ethernet LAN, usually a PC running a Web browser or an existing M&C station monitor. A rack mounted Antenna Display Unit is available as an option. A Local Motor Controller, LMKVS-CPU, mounts to the antenna pedestal and provides electrical power distribution and local control of the gear motors.
The LMKVS-CPU is housed in a NEMA 4X environmental protected enclosure that mounts to the antenna pedestal. An Ethernet Switch mounts in a rack or sits on a desktop and provides a 10/100 Base-T Ethernet connection to the LMKVS and the customer's PC.
Fiberoptic cable and modems are provided for connection distances in excess of 200 meters, or when lightning protection is required. The Ethernet Switch connects via a 10/100 Base-T connection to the rack mounted Beacon Interface Unit for beacon signal data. Gear motors are specifically sized for each antenna to drive the antenna in winds of 45 mph gusting to 65 mph. The gear motors attach to the antenna jack screws and provide 0.05-degrees/second tracking- speed and up to 0.5-degrees/second- slew speed. Limit switches and resolvers provide travel limits and antenna position to the LMKVS-CPU.
Features
Built in ASC Signal SmarTrack® tracks inclined satellites with optional beacon receiver
Utilizes 3-point tracking for 25% less wear on jacks
Storage capacity for up to 500 satellite positions
Digital conversion resolvers provide the antenna position
Selectable power supplies enable worldwide operation
Handheld controller provides local maintenance operator control
VFD based variable speed motor control
NORAD and Intelsat program track algorithms
Completes satellite long-term orbit model in only 6 hours

Upgrade your existing ACS3000 Antenna Control Unit
Andrew/ASC Signal discontinued the ACS3000 Antenna Control System and is therefor no longer supported. We advise to have the system upgraded with an sat-nms ACU-ODM module.
The sat-nms ACU-ODM module, manufactured by SatService GmbH. in Germany, is a state of the art antenna control and strep track system to be integrated directly in the antenna control box located at the satellite ground station antenna. Only a Ethernet interface is necessary to operate and monitor and control the antenna control system. For step-track purposes it is possible to add the sat-nms LBRX beacon receiver which provides the beacon level information also via Ethernet UDP frames.
We can integrate this upgrade kit in the existing outdoor cabinet. The sat-nms ACU-ODM module including all necessary wiring and mechanical parts will be built in by our technicians.
Andrew ACS3000 Antenna Control System
Andrew ACS3000 Antenna Control System