Centauri-5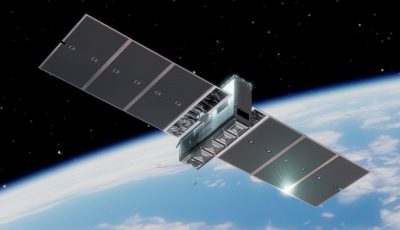 Centauri-5
On May 25th, the Centauri-5 satellite was launched successfully on SpaceX' Transporter-5 SmallSat Rideshare Program mission, orbiting 59 small spacecraft for various customers such as LEO satellite operators FOSSASat, GHGSat, ICEYE and satellite manufacturer Tyvak International. Fleet Space' Centauri-5 was integrated by Terran Orbital with satellites from GeoOptics (CICERO-2) and NASA (CPOD and PTD-3).
The Centauri-5 satellite is built to the 6U CubeSat form factor and weighs less than 10kgs. The satellite, with a size of a shoe box, has 119 times the data capacity compared to its Centauri 1 & 2 predecessors and is integrated with the satellite bus/avionics in an ongoing collaboration with US Nano=satellites systems designer Tyvak International, owned by Terran Orbital.
Centuri-5 is the 7th satellite for Fleet's planned constellation and is a 3D printed all-metal patch antenna satellite, that will provide digital beamforming in S-band frequency.
Centauri-5