Satellogic Aleph-1 LEO satellite constellation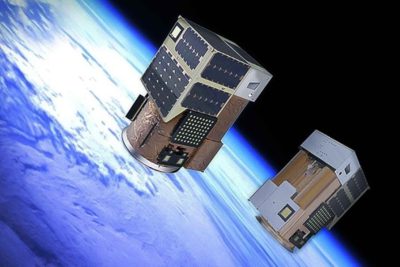 The Satellogic Aleph-1 LEO satellite constellation is operated by space company Satellogic from Argentina. The company builds and operates the first scalable, fully automated high-resolution Earth Observation satellite constellation in Low Earth Orbit (LEO). The platform, Aleph-1, consists of 300 spacecrafts and will have the ability to remap the entire planet at both high-frequency and high-resolution, providing accessible and affordable solutions for customers.

Like Planet and BlackSky LEO satellite operators, Satellogic is targeting patented satellite imaging applications in fields such as disaster response, oil and gas prospecting, infrastructure monitoring, forestry and agricultural crop assessment.

The Satellogic Aleph-1 LEO satellite constellation can cover an area of more than 1.5 million square miles, or 4 million square kilometers, per day with high-resolution imagery.

The company was established in 2010 and is headquartered in Buenos Aires, Argentina and has a satellite assembly facility in Montevideo, Uruguay, a R&D facility in Córdoba, Argentina, a data technology center in Barcelona, Spain, a product development center in Tel Aviv, Israel and business development centers in Miami, USA and Beijing in China.


| | | | | |
| --- | --- | --- | --- | --- |
| Satellite | Mission | Launch Date | Launcher | Launch Operator |
| CubeBug-1 (Capitán Beto) |   |  Apr 26th 2012 | Dnepr | ISC Kosmotras |
| CubeBug-2 (Manolito) |   | Nov 21st, 2013  | Dnepr | ISC Kosmotras |
| BugSat-1 (Tita) |   | June 19th, 2014 | Dnepr | ISC Kosmotras |
| ÑuSat-1 (Fresco)                    |   | May 30th, 2016  | Long March 4B | CGWIC China |
| ÑuSat-2 (Batata) |   | May 30th, 2016  | Long March 4B | CGWIC China |
| ÑuSat-3 (Milanesat) |   | June 15th, 2017  | Long March 4B | CGWIC China |
| ÑuSat-4 (Ada Lovelace) |   | Feb 2nd, 2018 | Long March 2D | CGWIC China |
| ÑuSat-5 (Maryam Mirzakhani) |   | Feb 2nd, 2018 | Long March 2D | CGWIC China |
| ÑuSat-7 (Sophie Germain) |   | Jan 15th, 2020 | Long March 2D | CGWIC China |
| ÑuSat-8 (Marie Curie)  |   | Jan 15th, 2020 | Long March 2D | CGWIC China |
| ÑuSat-6 (Hypatia) | VV16 | Sept 3rd, 2020 | Vega | Arianespace |
| ÑuSat-9 (Alice Ball) |   | Nov 6th, 2020 | Long March 6 | CGWIC China |
| ÑuSat-10 (Caroline Herschel) |   | Nov 6th, 2020 | Long March 6 | CGWIC China |
| ÑuSat-11 (Cora Ratto) |   | Nov 6th, 2020 | Long March 6 | CGWIC China |
| ÑuSat-12 (Dorothy Vaughan)  |   | Nov 6th, 2020 | Long March 6 | CGWIC China |
| ÑuSat-13 (Emmy Noether) |   | Nov 6th, 2020 | Long March 6 | CGWIC China |
| ÑuSat-14 (Hedy Lamarr) |   | Nov 6th, 2020 | Long March 6 | CGWIC China |
| ÑuSat-15 (Katherine Johnson) |   | Nov 6th, 2020 | Long March 6 | CGWIC China |
| ÑuSat-16 (Lise Meitner) |   | Nov 6th, 2020 | Long March 6 | CGWIC China |
| ÑuSat-17 (Mary Jackson) |   | Nov 6th, 2020 | Long March 6 | CGWIC China |
| ÑuSat-18 (Vera Rubin) |   | Nov 6th, 2020 | Long March 6 | CGWIC China |
| ÑuSat-19 (Rosalind Franklin) | Transporter-2 | June 30th, 2021 | Falcon 9 | SpaceX USA |
| ÑuSat-20 (Grace Hopper)  | Transporter-2 | June 30th, 2021 | Falcon 9 | SpaceX USA |
| ÑuSat-21 (Elisa Bachofen) | Transporter-2 | June 30th, 2021 | Falcon 9 | SpaceX USA |
| ÑuSat-22 (Sofya Kovalevskaya) | Transporter-2 | June 30th, 2021 | Falcon 9 | SpaceX USA |
| ÑuSat-23 (Annie Maunder) | Transporter-4 | April 1st, 2022 | Falcon 9 | SpaceX USA |
| ÑuSat-24 (Kalpana Chawla) | Transporter-4 | April 1st, 2022 | Falcon 9 | SpaceX USA |
| ÑuSat-25 (Mária Telkes) | Transporter-4 | April 1st, 2022 | Falcon 9 | SpaceX USA |
| ÑuSat-26 (Mary Somerville) | Transporter-4 | April 1st, 2022 | Falcon 9 | SpaceX USA |
| ÑuSat-27 (Sally Ride) | Transporter-4 | April 1st, 2022 | Falcon 9 | SpaceX USA |
| ÑuSat-28 (Alice lee) | Transporter-5 | May 25th, 2022 | Falcon 9 | SpaceX USA |
| ÑuSat-29 (Edith Clarke) | Transporter-5 | May 25th, 2022 | Falcon 9 | SpaceX USA |
| ÑuSat-30 (Margherita Hack) | Transporter-5 | May 25th, 2022 | Falcon 9 | SpaceX USA |
| ÑuSat-31 (Ruby Payne-Scott) | Transporter-5 | May 25th, 2022 | Falcon 9 | SpaceX USA |
| ÑuSat-32 (Albania-1) | Transporter-6 | Jan 2nd 2023 | Falcon 9 | SpaceX USA |
| ÑuSat-33 (Albania-2) | Transporter-6 | Jan 2nd 2023 | Falcon 9 | SpaceX USA |
| ÑuSat-34 | Transporter-6 | Jan 2nd 2023 | Falcon 9 | SpaceX USA |
| ÑuSat-35 | Transporter-6 | Jan 2nd 2023 | Falcon 9 | SpaceX USA |
Satellogic Aleph-1 LEO satellite constellation