SES-19 at 135° West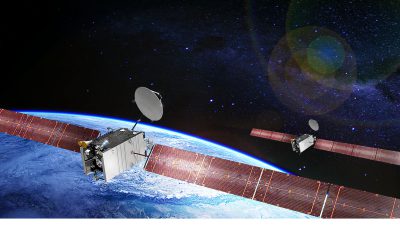 | | |
| --- | --- |
| Position: | 135° West |
| Manufacturer: | Orbital ATK |
| Operator: | SES |
| Launch operator: | SpaceX |
| Launch vehicle: | Falcon 9 |
| Launch date: | 03/09/2023 |
| Expected lifetime: | 15+ Years |
The SES-19 at 135° West is a GEO C-band only communications satellite operated by satellite operator SES from Luxembourg. SES selected two US-based satellite manufacturers, Northrop Grumman and the Boeing Company, to deliver four new satellites (SES-18, -19, -21 and -21) as part of the company's accelerated C-band clearing plan to meet the Federal Communications Commission's (FCC) objectives to roll-out 5G services. The company will migrate its existing C-band customers and ensuring the continued delivery of digital television to nearly 120 million American TV homes and other critical data services.
Satellite manufacturer Northrop Grumman delivered the two GeoStar-3 satellites, SES-18 and SES-19, each equipped with a high-quality C-band payload. The two satellites were designed, assembled and tested in Dulles, Virginia USA.
Both SES-20 and -21 satellites were built by satellite manufacturer Boeing and are designed and intended to enable SES's continued delivery of its C-band broadcast and radio services as well as critical data networks services in the coming months. The satellites are the 14th and 15th satellites built by Boeing for SES.
SES-18 and SES-19 at 135° West were successfully launched on March 9th, 2023 in a dual launch on a Falcon 9 rocket operated by launch provider SpaceX from the Cape Canaveral Launch Complex in Florida USA.