Planet Labs SkySat LEO satellite constellation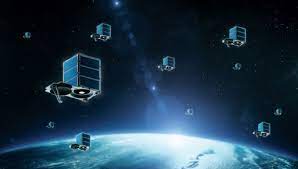 SkySat LEO satellite constellation is operated by Earth Imaging company Planet Labs. SkySat has with 21 sates in orbit. Planet Labs currently operates three constellations, SkySat, RapidEYE and Doves. The satellites that comprise each constellation have unique spatial, temporal and radiometric resolutions, to capture Earth's activities from multiple perspectives and dimensions.

The SkySat satellites, built by Space Systems/Loral (SS/L) aka Maxar, were originally operated by SkyBox Imaging, that was acquired by Google in 2014. In 2016 Skybox Imaging changed name in Terra Bella that was purchased by Planet in April 2017 with Google as a shareholder in Planet as part of that deal. On August 18th, 2020,

Planet completed its SkySat Constellation of 21 satellites by launching the final three SkySats (SkySat-19, -20 and -21) on the Starlink-14 mission with a SpaceX Falcon 9 rocket.


| | | | | |
| --- | --- | --- | --- | --- |
| Satellite | Mission | Launch Date | Launcher | Launch Operator |
| SkySat-1 | Cluster Mission 2013 | Nov 21st, 2013 | Dnepr-1 | ISC Kosmotras RUS |
| SkySat-2 |   | July 8th, 2014 | Soyuz-2   | GK Launch KZ |
| SkySat-3 | CartoSat-2 | June 22nd, 2016 | PSLV-C34 | ISRO India |
| SkySat-4 | VV07 | Sept 16th, 2016 | Vega | Arianespace FG |
| SkySat-5 | VV07 | Sept 16th, 2016 | Vega | Arianespace FG |
| SkySat-6 | VV07 | Sept 16th, 2016 | Vega | Arianespace FG |
| SkySat-7 | VV07 | Sept 16th, 2016 | Vega | Arianespace FG |
| SkySat-8 |   | Oct 31st, 2017 | Minotaur-C | Orbital ATK/NG USA |
| SkySat-9 |   | Oct 31st, 2017 | Minotaur-C | Orbital ATK/NG USA |
| SkySat-10 |   | Oct 31st, 2017 | Minotaur-C | Orbital ATK/NG USA |
| SkySat-11 |   | Oct 31st, 2017 | Minotaur-C | Orbital ATK/NG USA |
| SkySat-12 |   | Oct 31st, 2017 | Minotaur-C | Orbital ATK/NG USA |
| SkySat-13 |   | Oct 31st, 2017 | Minotaur-C | Orbital ATK/NG USA |
| SkySat-14 | SSO-A Smallsat Express | Dec 3rd, 2018 | Falcon 9   | SpaceX USA |
| SkySat-15 | SSO-A Smallsat Express | Dec 3rd, 2018 | Falcon 9   | SpaceX USA |
| SkySat-16 | Starlink-9 | Jun 13th, 2020 | Falcon 9   | SpaceX USA |
| SkySat-17 | Starlink-9 | Jun 13th, 2020 | Falcon 9 | SpaceX USA |
| SkySat-18 | Starlink-9 | Jun 13th, 2020 | Falcon 9 | SpaceX USA |
| SkySat-19 | Starlink-14 | Aug 18th, 2020 | Falcon 9 | SpaceX USA |
| SkySat-20 | Starlink-14 | Aug 18th, 2020 | Falcon 9 | SpaceX USA |
| SkySat-21 | Starlink-14 | Aug 18th, 2020 | Falcon 9 | SpaceX USA |
Planet Labs SkySat LEO satellite constellation