VertexRSI RSC-1200 1:2 Redundant System Controller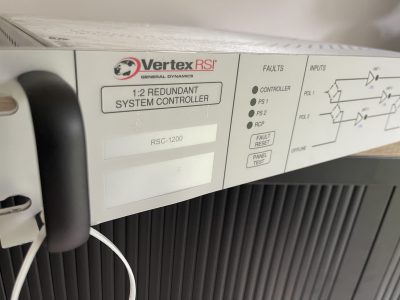 | | |
| --- | --- |
| Condition: | Used and tested |
| Model: | RSC-1200 |
| Manufacturer: | VertexRSI |
VertexRSI RSC-1200 1:2 Redundant System Controller
The VertexRSI RSC-1200 1:2 Redundant System Controller can directly power most LNA or LNB units and monitor the output voltages and currents to detect faults. The controller can also monitor external alarm input signals, such as from a SSPA or BUC, or monitor a combination of output currents and external alarm inputs. Upon detecting a unit failure, the controller can automatically drive a waveguide switch to activate the spare unit.
Redundant systems increase system availability by including spares for critical units (e.g., LNAs, LNBs, BUCs or SSPAs) in the signal path. In the case of a detected unit failure, the redundant system automatically switches to the spare. A 1:2 redundant system supports two active units and one spare unit.

Features
Standard 19″ rack panel, 31⁄2″ high
Dual, redundant power supplies
Worldwide universal AC input capability
Manual or automatic operation
Mimic front panel graphically depicts switch positions and unit status
Monitors unit currents, external alarms, or a combination of both to detect unit failure
Automatically switches RF path to standby unit when unit failure occurs
Jumperless RS-232/-422/-485 and parallel I/O M&C interfaces
Audible alarm
Jumperless software configuration of all options
Remote Control Panel option duplicates front panel at remote site
Skybrokers has installed various redundant controllers with their used and refurbished Earth Station antennas. We have one unit available that can be released quickly. We provide 90-day warranty and can ship worldwide EXW The Netherlands.
VertexRSI RSC-1200 1:2 Redundant System Controller
VertexRSI RSC-1200 1:2 Redundant System Controller