EchoStar XIX (Jupiter-2, Spaceway 5) at 97° West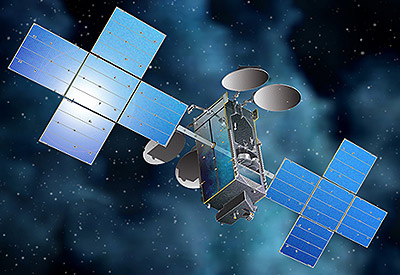 In March 2013, satellite operator EchoStar ordered thru its Hughes Network System, LLC. subsidiary, their EchoStar XIX satellite with Space Systems/Loral (SS/L). EchoStar XIX had a launch mass of 6,637kgs and would be the world's highest capacity broadband satellite. The new Ka-band satellite will help meet the growing demand for HughesNet Gen4 high-speed satellite Internet service in North America, with 50% more capacity than EchoStar XVII (Jupiter-1), which was launched in July 2012.
EchoStar XIX (Jupiter-2) is a large, multi-spot beam Ka-band satellite based on the highly reliable SSL-1300 space-proven platform, which provides the flexibility to support a broad range of applications and technology advances. The satellite is designed to provide service for 15 years or longer and was scheduled to be launched by Arianespace that had no opening for launching large satellites that time. EchoStar had to switch to an Atlas 5 rocket for launch in 2016.
The satellite was launched on December 18th, 2016, on an Atlas V booster rocket operated by launch operator United Launch Alliance (ULA) from the Kennedy Space Center at Cape Canaveral, Florida, USA.
EchoStar XIX (Jupiter-2, Spaceway 5) at 97° West