OneWeb Satellite constellation (LEO)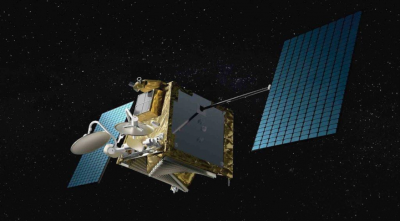 Airbus Defense & Space, World's second largest space company, and OneWeb Satellites have teamed up to design and manufacture up to 900 satellites for the OneWeb constellation, which will provide affordable high-speed Internet access across the globe. The challenge is enormous, since satellites have never been mass produced before. A requirement to produce several small satellites a day has inspired us to develop innovative designs and processes that dramatically lower the cost in large volumes for high performance space applications. We set up an assembly line that is completely different from classic geostationary satellite assembly facilities and we organised a procurement supply chain that is unlike anything the space sector has ever seen before. OneWeb calls for satellites of less than 150kg each that feature fewer electrical connections between subsystems than is typical of traditional communications satellites. With first models manufactured at OneWeb Satellites facility at the Airbus Toulouse site in France, full series production is taking place at OneWeb Satellites new factory in Florida, demonstrating once again the agility of this joint venture.

For the launch services, OneWeb contracted launch operators Arianespace, Virgin Galactic and Blue Origin. The launch contract for Arianespace also included three options for Ariane-62 launches. One of these was later converted to a launch contract for 30 satellites on the maiden Ariane-62 flight. Another contract with Virgin Galactic is for 39 launches on LauncherOne air launched rockets, with options for 100 more launches. This contract was reduced in 2018 to only four launches. In March 2017 OneWeb signed an agreement with Blue Origin for five launches of the New Glenn rocket. In December 2018 it was announced, that the initial constellation will be reduced by 33% to 600 satellites due to reportedly better-than-expected ground performance of the demo satellites. The first launch of six prototypes was planned for February 2019. The remaining four prototypes are being used as ground spares in case of a launch failure.

On March 3rd, 2022 OneWeb suspended all launches from the Baikonur Cosmodrome in Kazakhstan and launch operator Arianespace and the Starsem Russian affiliate, suspended the Soyuz launches as the companies rejected steep demands from the Russian space agency Roscosmos, following sanctions from the EU, USA and the UK issued because of Russia's invasion of Ukraine. 



Satellite launches
See below the launches of OneWeb's batches of satellites:
| | | | | |
| --- | --- | --- | --- | --- |
| Launch date | Launch Provider | Launch Vehicle | Launch Site | Mission |
|   |   |   |   |   |
| Feb 27, 2019 | Arianespace | Soyuz | French Guiana | OneWeb-1 (1-6) |
| Feb 06, 2020 | Arianespace | Soyuz | Baikonur KZ | OneWeb-2 (7-30) |
| Mar 21, 2020 | Arianespace | Soyuz | Baikonur KZ | OneWeb-3 (31-74) |
| Dec 18, 2020 | Arianespace | Soyuz | Vostochny RUS | OneWeb-4 (75-110) |
| Mar 26, 2021 | Arianespace | Soyuz | Vostochny RUS | OneWeb-5 (111-146) |
| Apr 26, 2021 | Arianespace | Soyuz | Vostochny RUS | OneWeb-6 (147-182) |
| May 29, 2021 | Arianespace | Soyuz | Vostochny RUS | OneWeb-7 (183-218) |
| July 1, 2021 | Arianespace | Soyuz | Vostochny RUS | OneWeb-8 (219-254) |
| Aug 22, 2021 | Arianespace | Soyuz | Baikonur KZ | OneWeb-9 (255-288) |
| Sept 14, 2021 | Arianespace | Soyuz | Baikonur KZ | OneWeb-10 (289-322) |
| Oct 14, 2021 | Arianespace | Soyuz | Vostochny RUS | OneWeb-11 (323-358) |
| Dec 27, 2021 | Arianespace | Soyuz | Baikonur KZ | OneWeb-12 (359-394) |
| Feb 10, 2022 | Arianespace | Soyuz | French Guiana | OneWeb-13 (395-428) |
OneWeb Satellite constellation (LEO)