Jabiru-1 (MEASAT-3c) at 91,5° East (Not Active)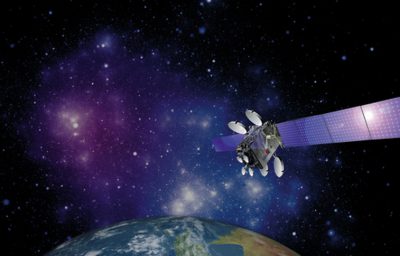 Australia's satellite company NewSat announced in December 2011, that as the next stage in the Jabiru satellite project, it has entered into a contract with Lockheed Martin Commercial Space Systems for the construction of the Jabiru-1 satellite.
The construction of the Jabiru-1 satellite commenced immediately and was scheduled for launch in 2015. Jabiru-1 would provide high-bandwidth communication services to government and enterprise markets including mining, oil, gas, media and carrier-grade telecommunications, across countries such as Afghanistan, Iraq, Pakistan, Saudi Arabia, Somalia and India.
Jabiru-1 would incorporate an advanced Ka-band payload which will provide high-powered satellite coverage across growth regions over the Middle-East, Africa and Asia. The large Jabiru-1 spacecraft will utilise Lockheed Martin's proven A2100AXS spacecraft and is designed for an in-orbit life of 15 years. The Jabiru-1 satellite would feature 50 Ka-band high power TWTA's configured in a variety of spot beams, theater beams, and steered beams to provide flexible communication solutions for a range of diverse applications. In addition, Jabiru-1 is carried 18 Ku-band transponders and one transponder in S-band.
In 2015 satellite operator MEASAT from Malaysia and NewSat agreed to purchase about 180 million USD in capacity on each other's satellites. NewSat's purchase is for Ku-band bandwidth on MEASAT-3b, which NewSat calls Jabiru-2, with a footprint mainly over Australia. That satellite entered service in November and NewSat said it had begun to load customers onto it. MEASAT agreed to lease Ku- and S-band capacity on the Jabiru-1 satellite under the designation MEASAT-3c.
However, the satellite contract was cancelled due to the bankruptcy of NewSat in May 2015. The partly completed Jabiru-1 satellite remained unsold and is still at its manufacturer Lockheed Martin.  Similarly the "asset" of the satellite's launch booking on Arianespace' Ariane 5 was also not been sold. Lockheed Martin retained ownership rights and was seeking for a new buyer.
As a result of NewSat's bankruptcy the company had to cease operations and it's teleport facilities in Perth and Adelaide were sold to SpeedCast Australia Pty, Ltd. for 12 million USD.
In September 2017 MEASAT terminated the agreement for the supply of transponder capacity branded under MEASAT-3c. The satellite was never launched.