Inmarsat-6 F2 (Inmarsat GX-6B, I-6 F2) at 28° West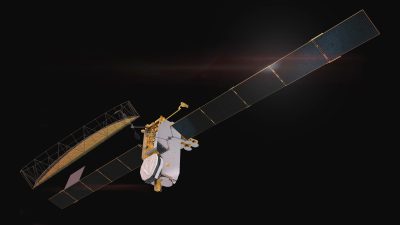 Inmarsat-6 F2 (Inmarsat GX-6B, I-6 F2) at 28° West
The Inmarsat-6 F2 (Inmarsat GX-6B) at 28° West is operated by satellite operator Inmarsat from the UK and is the world's most advanced commercial communications satellite that was built in the UK and assembled in Toulouse, France by Airbus Defense & Space. The satellite adds further capacity and capabilities to Inmarsat's multi-dimensional ORCHESTRA network to meet the connectivity demands of global mobility, government and IoT customers.
The I-6 F2 follows its 'twin', I-6 F1, which launched by launch operator MHI Launch Services from Japan in late 2021. I-6 F2 is based on Airbus' ultra-reliable Eurostar E3000 spacecraft and will be the 58th Eurostar E3000 built by Airbus. The satellite will carry a large 9m aperture L-band antenna and nine multibeam Ka-band antennas and feature a high-level of flexibility and connectivity. A new generation modular digital processor will provide full routing flexibility over up to 8000 channels and dynamic power allocation to over 200 spot beams in L-band. Ka-band spot beams will be steerable over the full Earth disk, with flexible channel to beam allocation.
The satellite was successfully launched on February 18th, 2023 from Kennedy Space Center in Florida on a Falcon 9 rocket operated by SpaceX.
Inmarsat-6 F2 (Inmarsat GX-6B, I-6 F2) at 28° West